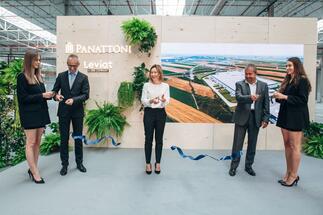 The project is situated just 5 km from the firm's existing smaller factory in Nowe Skalmierzyce and 15 minutes from the A2 motorway. It will allow the firm to continue to employ its team of 350 professionals, while leaving open the option of further expansion and enabling it to increase its production capacity and range of activities.
The excellent cooperation and mutual understanding we have had with Leviat has allowed us to not only deliver a facility that meets its requirements, but also to complete the project on time to ensure the continuity of its production. This cooperation allowed us the efficiency we needed to finish the project on time, despite all the pandemic-related restrictions.
Marek Foryński, the BTS managing director of Panattoni
Around 36,500 sqm of Leviat's new plant in Kalisz is to be used for technologically advanced production processes, in order to produce, among others, assembly, reinforcement and transport systems. The social and office space will take up 3,500 sqm of the facility, which is to be BREEAM certified.