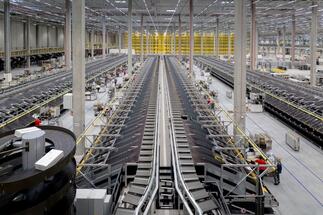 The facility in Biała Błota is already under construction. The construction of the second one, implemented in Bydgoszcz itself, will start at the beginning of 2022. The choice of Bydgoszcz and its surroundings was influenced, among others, by proximity to customers in Poland and other nearby markets. Factors such as the labor potential of the region and the location in the vicinity of other Zalando facilities in Poland also spoke in favor of the location of the investment.
The logistics center in Bydgoszcz will have an area of ​​140 thousand square meters. sq m, including office buildings. The number of employees in it in the long term will amount to 3.5 thousand. The opening of the facility is planned for the second quarter of 2023. The logistics center in Bialy Błota will occupy over 100,000 sq m. sq m About 800 people will find employment there. Its opening is scheduled for March 2022.
Environmentally friendly solutions will be used in both centers. They include, among others enhanced thermal insulation of buildings, electric car charging stations, collection and redistribution of rainwater. The facilities are constructed in line with the BREEAM standards at the Excellent level.
The investment in Bydgoszcz and its vicinity will allow us to expand our European logistics network and support the development of the Zalando Lounge shopping club, which has become popular with customers in all our markets. For the first time, we will have two logistics centers in one city, which is unique to our logistics network, comments Martin Rost, Offprice Senior Vice President at Zalando.
In the process of selecting the location and launching the project, the investor was supported by the Bydgoszcz Regional Development Agency. Along with the construction of the new centers, additional investments are planned in consultation with local authorities, including the renovation and construction of new stretches of road near the Zalando facilities under construction.
Logistics centers in Bydgoszcz and Biały Błota are another Zalando investments in Poland, after the facilities in Gryfino, Olsztynek and Głuchów near Łódź.