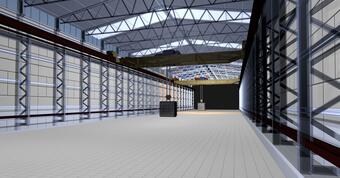 The current warehouse resources in Poland are the result of an increase of 19 percent. per year. In the near future, the declining availability of space will be a challenge, because although the interest in e-commerce warehouses is weakening, a boom in production is visible.
In the environment of growing economic challenges, the most important of which are inflation, higher costs of doing business or a falling number of orders, the logistics sector remains strong and focused on dynamic development. Most representatives of this industry assume an increase in turnover, and thus also an increase in employment. This is quite unique at the moment, because most sectors are switching to survival mode, which means that they are focused on maintaining the current situation, both in terms of turnover and employment. This is proof that the momentum that the industrial and logistics sector has gained during the pandemic continues and will not change for the time being - says Anna Bielacka, senior consultant in the consulting and research department at CBRE.
4 million sqm is still under construction, which is 8% more than in 2018. more than a year earlier. In the third quarter, however, there was a decrease in space under construction compared to the previous quarter by 9%.
The indicator of space under construction may decrease in the future due to the fact that banks financing investments expect a higher level of lease security than before. It is true that the e-commerce industry is now less interested in industrial and logistics space than during the pandemic, but this place is filled by production, which is becoming an increasingly important component of demand. Their contracts already account for 18 percent. everyone – adds Anna Bielacka from CBRE.
Most entrepreneurs in Poland are looking forward to next year with great fear. It turns out, however, that fear does not apply to representatives of logistics. According to the report by CBRE and Panattoni "Confidence Index 2022", those dealing with this sector mostly expect an increase in turnover next year (58%). 26% expect a decline, while 16% expect a decline. turnover is expected to remain unchanged. The results vary between groups of respondents. The vast majority, 84 percent, of logistics companies believe that turnover will increase or remain unchanged, 64 percent. of trading and manufacturing companies are of the same opinion, while at least one-third expect a decline in turnover.
Growth forecasts in the logistics industry and high demand among operators for industrial space confirm that in times full of challenges, in the face of breaking supply chains, having an appropriate logistics and warehouse base is a key element to ensure business continuity. In addition, Poland, thanks to its strategic location in the center of Europe, is becoming an ideal place to conduct activities serving the entire continent. Well-developed infrastructure, access to attractive locations and still lower operating costs than in the west attract companies with a local, regional and global reach - says Marek Dobrzycki, managing director at Panattoni.
Employees of the industrial and logistics sector should not be afraid of their jobs, because only 6 percent of employees plan to cut jobs. companies. Most plan to look for new employees. When asked whether they plan to increase or reduce employment in the next 12 months, representatives of the sector answered 58 percent of respondents. indicate an increase, and 36 percent. maintaining employment. Interestingly, last year, 41% planned new recruitments. respondents, which means an increase of 17 pp. As in the case of the increase in turnover, logistics companies stand out - 68 percent. expects an increase in employment and has no plans of downsizing at all. Among trading and manufacturing companies, 48 ​​percent. want to hire, 40 percent will not change anything, and 12 percent. predicts a slight decrease in employment.