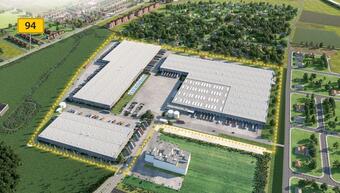 The letter of intent sets out the principles of cooperation between Develia and Hillwood Polska in the implementation of the logistics park along with the necessary technical and road infrastructure. The owner of the property on which the logistics center will be built is a subsidiary of Develia. The project will be implemented in at least four stages, therefore the letter of intent provides for a phased sale of the land to a special purpose vehicle, in which Develia will have 25 percent. shares.
The developer estimates that the revenue from the sale of the entire land property will amount to approximately EUR 35 million. In the basic scenario, Develia does not envisage any additional financial involvement in the construction of the logistics center.
Project parameters will be established based on the business plan adopted during the joint venture agreement negotiations. Its implementation requires cooperation from partners at all stages - from obtaining the necessary administrative decisions, through construction, ending with the commercialization of the facility. The project will draw on the experience of both companies, but operational management will be handled by the Hillwood team.
Establishing cooperation with Hillwood Polska to build a logistics park on our land in Malina is another element of Develia's strategy. We strive to maximize the value through divestment of the asset that the company purchased in 2007. In addition to the income from the sale of land, Develia will have a share in the profits from this project, which should be completed by 2029 - announces Andrzej Oślizło, president of Develia.
Develia, together with Hillwood, is in talks with local authorities about repurposing the site for the project.
The implementation of the project in Malina is a step towards expanding our offer in the vicinity of Wrocław. The logistics park, which we will build in cooperation with Develia, will be our fifth warehouse center in this area. Wrocław and the whole of Lower Silesia enjoy great interest among tenants, especially companies from the e-commerce and logistics sectors. As shown by the data for the last quarter of last year, it is the third largest market in the country in terms of demand for modern warehouse space, explains Hubert Michalak, President of Hillwood Polska.