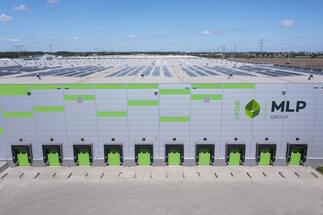 Over 4.7 thousand square meters will be earmarked for production and storage purposes. sq m, along with a social annex in the warehouse. The office part will take up approximately 600 sq m. The facility is under construction. The tenant was supported in the transaction by CBRE.
The hall will be 11.5 meters high. Due to the specificity of the activity, additional ventilation of the hall will be provided through smoke vents. Electricity will be supplied from photovoltaic panels located on the roof of the warehouse. The office space will be well lit thanks to large glazing.
New tenants from various industries are systematically joining us. In each case, we try to adjust the facilities to their individual requirements. At the same time, as part of the entire investment, we use a number of modern solutions that have a positive impact on the environment, in accordance with the strategic goal of achieving a zero carbon footprint - explains Tomasz Pietrzak, leasing director Poland at MLP Group.
On the roofs of MLP Poznań West buildings, a photovoltaic installation with a total capacity of 482 kWp has been installed. The building for the new tenant is currently obtaining the BREEAM certificate.
Choosing MLP Poznań West in Dąbrówka is not only the location that suits the client, but also the technical conditions offered by MLP. An important aspect was the requirement that the facility should meet the standards of sustainable development and provide high-quality space for employees - said Karolina Galas, head of the CBRE office in Poznań.
Park MLP Poznań West will ultimately provide about 150 thousand. sq m warehouse and office space. The logistics center is located on the west side of Poznań, near the S11 expressway, 7 km from the junction with the A2 motorway. WPIP is responsible for the implementation of warehouse facilities as part of the MLP Poznań West project