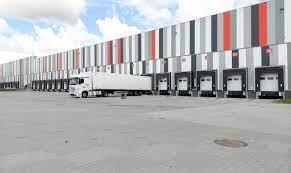 We waited for a summary of the data for the first half of the year with some uncertainty, but it turned out that they bring good news. The warehouse market continues to develop dynamically, and in the second quarter of this year alone, 1.15 million were completed. sqm warehouse space - comments Damian Kołata, partner, head of Industrial & Logistics Agency Poland, head of E-Commerce CEE, Cushman & Wakefield.
4.35 million sq m is still under construction. warehouse space. Speculative investments account for 48 percent. total construction volume, i.e. 2.1 million sq m This is an increase of 0.9 million sq m. compared to the situation last year. Nevertheless, as Cushman & Wakefield experts indicate, the vacancy rate slightly exceeds 3%, amounting to 3.3%, which is almost 2 pp. less than in the same period last year
In terms of the total demand for space, the result for the first half of the year was 12 percent higher. year on year and by 70 percent. compared to the first half of 2020. A similar scale of growth was recorded on the side of net demand, which amounts to as much as 73%. general demand. The logistics, distribution and trade industries generate high demand for warehouse space. There is also a visible increase in the activity of production companies, which results from the desire to secure supplies, among others parts and components used in the automotive industry.
We also see the further development of the e-commerce and courier industry, as exemplified by numerous large transactions concluded in the first half of the year, each of which exceeded 50 thousand. sqm It should be remembered that despite the decline in the share of e-commerce in total retail sales in Poland, e-commerce is highly seasonal, and despite this, comparing, for example, July to previous years, we can see sustained increases. The current year is 8.4 percent. share, last was 7.4%, and the pandemic July 2020, in which we all marveled at the boom in e-commerce, had a share of only 6.5%. However, the CSO data is usually strongly understated, which is worth remembering, while PwC sets the share of e-commerce in retail sales at 13%. Moreover, from the point of view of warehouse properties, e-commerce should be considered more broadly,
In the second quarter of 2022, nearly 1.15 million sq m was completed. of warehouse space, of which approximately 250,000 was vacant in June. sqm The vacancy rate in Poland remained at a record low level of 3.3 percent, which translates into 867 thousand. sqm of space available for rent at the end of June this year, i.e. 38 percent. less than a year earlier. A clear decrease in vacancy rates was recorded in Silesia (by approx. 86 thousand sq m), while an increase was recorded in the Łódź (by 77 thousand sq m) and West Pomeranian markets (by 67 thousand sq m).
Despite the low vacancy rate, we observe a tendency to gradually reduce the number of development investments, in particular those of a typically speculative nature. This is due to the still uncertain market conditions, high construction costs and a significant amount of space still under construction, not yet secured by pre-let agreements. In the second quarter, developers started the construction of approximately 800,000 sq m. sq m, which is a decrease by 46%. compared to the average of the four previous quarters. Perhaps this is a temporary reduction in development activity, but if it lasts longer, the currently visible state of shortage of warehouse space in some regional markets will also continue in 2023 - notes Adrian Semaan, senior consultant, Consulting & Research, Cushman & Wakefield.
The low vacancy rate and the increase in the costs of implementing new development projects resulted in a significant increase in rents for warehouse space in the first half of 2022. The largest increases were recorded in the Krakow and Tri-City markets - even by EUR 1 year on year. These markets are characterized by a low vacancy rate, as well as an imbalance between demand and planned supply.
At the end of June 2022, headline rents stood at EUR 3.40-4.80 per sq m. per month for big-box facilities, up to EUR 5-5.75 per sq m. per month in city logistics / SBU projects. In the current market conditions, the range of financial incentives offered to tenants is narrowing, leading to an increase in effective rental rates. Depending on the location, they range from EUR 2.80-4.50 per sq m. per month (big-box) to EUR 4.50-4.80 per sq m for the month (city logistics / SBU).
Despite the outbreak of the war in Ukraine, the second quarter of 2022 was the best in history in terms of the transaction volume, which ultimately amounted to EUR 510 million (an increase by 9 percentage points compared to the same period in the previous year).
Rising financing costs directly related to increased interest rates in Europe translate into property valuations, but do not affect the perception of logistics as a desirable investment product. After the uncertain months from March to June due to the war in Ukraine, the following months saw higher investment activity, additionally strengthened by large rent increases in warehouse projects - comments Paweł Partyka, partner, Capital Markets, Cushman & Wakefield.
The long-term outlook for the sector remains favorable. In light of disrupted supply chains and high inflation, companies from many industries will strive to improve the efficiency of logistics processes. This includes their relocation and optimization of supply chains, as well as the transition of their operations to new locations. These processes will be supported by further investments in transport infrastructure and the growing supply of modern class A industrial space, implemented in accordance with the principles of sustainable construction. As the PLGBC report shows, the share of certified warehouse space in the stock increased to 41 percent. (as of April 1, 2022) compared to 28 percent. last year.
It is also worth mentioning that developers are actively securing new investment areas, both for large-box and BTS projects, as well as projects supporting city logistics, which reflects a strong belief in the long-term and diversified development of the sector in Poland. Data on the bank of investment land indicate a market potential of over 20 million sq m. industrial space that can be built in the next few years. - summarizes Damian Kołata.
Macroeconomic indicators also have an impact on the warehouse market. Poland is facing a slowdown in economic activity, which will result from a shock increase in energy and raw material prices caused by Russia's invasion of Ukraine. Elevated inflation will continue until at least 2023, and GDP growth will slow down - however, this will not bring another recession. Although Poland is not as dependent on exports as other Eastern European countries, it is forecast to decline by slowing down the supply chain.