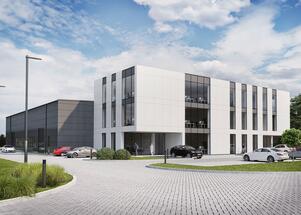 New SBU areas are being developed in a perfect location at the communication junction of the S11 route and the 92 road. Four office and hall segments will be built there. Each of them will consist of 450 sq m. office space of a high standard, spread over three floors and 1 thousand. sq m warehouse and service space.
We plan to develop some of the space under construction for the development of our business, but the main intention of the investment is to commercialize the space through long-term lease - said Damian Mielczarek, president of the board of DSM.
The warehouse parts will be realized in a mixed prefabricated structure, based on reinforced concrete columns and trusses. The office building will be built using the traditional method. A photovoltaic installation has been designed on some of the roofs, which will be successively launched on the premises.
The planned completion date is November 2022.