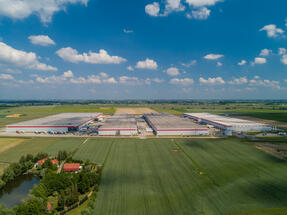 Bartłomiej Hofman, the Managing Director of P3 Logistic Parks Poland says: "The cooperation with Westwing and the decision to base its largest warehouse in P3 Poznań park is a great honour for us. We are proud to be building a facility for the European leader in inspiration-based Home and Living eCommerce. Growing numbers of on-line transactions and the rapid development of the e-commerce sector increase the complexity of logistics processes, for which retail chains pursuing their e-commerce activities must be properly prepared. A flagship warehouse of an appropriate size, in a convenient location, will allow our partner to intensify their operational processes and will surely provide more business development opportunities."
Westwing is the European leader in inspiration-based Home and Living eCommerce. The shoppable magazine operates in 11 European countries and inspires its loyal Home Enthusiast customers with a curated product selection and combines that with gorgeous content. From the new warehouse, the company will distribute its furniture products to the European market.
Steffani Busch, Westwing COO says: "When we were deciding on a new warehouse, we had carefully considered all available options. We were looking for a business partner who could understand our needs and who would come up with solutions fully meeting our requirements and exceeding current market standards, especially with regards to sustainability. We eventually decided to entrust P3 with the construction of our new logistics centre in Robakowo, near Poznań. Since already today we have parts of our European operations in the Robakowo-based P3 Poznán park, this is also very convenient for us as it will be an extension to those operations. "
Westwing will add the new warehouse providing almost 79 000 sq m of warehouse space and approx.
3 500 sq m of office space and social premises to its existing warehouse footprint across Europe. The building will be adapted to the requirements of the e-commerce industry. As part of the furniture operations, the warehouse will house a returns department and a product quality control section.
There will be also a parking lot for employees for 288 cars and a bike park. The facility will initially give jobs to over 200 people and is dimensioned for up to 1,000 people in the future.
Michał Śniadała, Senior Leasing Manager, says: "The Westwing warehouse will be fully adapted to our partner's requirements. On the 82 500 sq m of leasable area various process optimization solutions will be used and the facility will be built according to the highest sustainable building development standards. The choice of our park proves that the perfect location, customer focus and adaptability to our partners' needs are keys to success. "
The facility will have an above-standard net height of 12 m, reinforced 7.5 t/sq. m floor and upgraded fire protection, i.e. its fire resistance will be over 4000 Mj. Wall panels with PIR core, which efficiently isolate from external factors, will be used for the construction. Photovoltaic systems will be installed on additionally reinforced roofs. LED lighting with DALI control system will be installed in the warehouse, with lighting controlled by motion sensors in bathrooms and in office and social parts. Also the facility will be fitted with water-saving systems, such as grey water recovery systems. The warehouse will also have BREEAM "Excellent" certification.
P3 Poznań Park is one of the largest logistics parks in the Greater Poland region. It is situated 16 km from the Poznań city centre and 2.4 km from the S11 express road. The excellent location of the park attracts customers from the e-commerce industry, manufacturing companies and companies distributing their products to Western European markets.