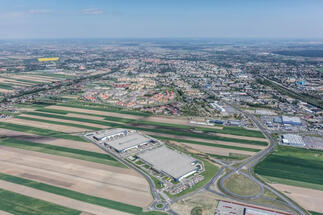 35 thousand sq m Panattoni will provide warehouse space in two buildings in Panattoni Park Kalisz. 4.5 thousand sq m has already been leased by Poczta Polska. Some of this space will be taken up by offices. For the tenant's needs, Panattoni also prepared a side ramp and a sorting room. Both companies have already cooperated within Panattoni Park Białystok. Poczta Polska is renting space in the local warehouse.
Currently, the developer is located on the final straight construction of Panattoni Park Kalisz - the first multi-tenant complex with A-class space in the second largest city in the region.
As part of two buildings, the company has delivered 35 thousand. sq m and at the same time confirms the potential of Kalisz as an attractive alternative for Poznań within the borders of Greater Poland. The possibilities of this location were also noticed by Poczta Polska SA , which leased nearly 4.5 thousand. sq m, of which over 650 have been occupied by offices. The developer adapted the space to the tenant and prepared, among others a side ramp and a sorting room for correspondence.
This is another collaboration between the two companies. Previously, Poczta Polska leased over 5,000 sq m. sq m as part of Panattoni Park Białystok , which allowed, inter alia, for the development of e-commerce services.
- Our next cooperation with Poczta Polska SA confirms the enormous importance of the development of emerging markets for postal and courier services. By delivering space closer to cities that a few years ago were devoid of A-class warehouses, we enable more efficient service for the end customer. Locations such as: Kalisz, Białystok, Lublin or Siedlce are no longer the future, but the present of the warehouse sector, so it is not surprising that there are more fully commercialized parks - says Katarzyna Osińska , Development Director at Panattoni.
The park in Kalisz is a convenient location and flexible conditions for shaping warehouses
Panattoni Park Kalisz is a complex of two A-class buildings, developed in accordance with the Small Business Units (SBU) formula, and thanks to the project enabling flexible shaping of modules, its tenants can be companies from the production and logistics sectors.
As part of the buildings, clients can use segments from 1,380 sq m. The park is also distinguished by the conditions for shaping warehouse and office space. The complex is located in the south-western part of the industrial zone of Kalisz, 6 km from its center, which allows for efficient transport both within the town and on its outskirts.
The facility is located in the vicinity of the national road 25 and 7 km from road No. 12, which runs latitudinally from the border with Germany to the border with Ukraine. Moreover, the city bypass runs 2.5 km from the complex, and Panattoni Park Kalisz is less than an hour away from the A2 motorway connecting Warsaw, Łódź, Poznań and Berlin.