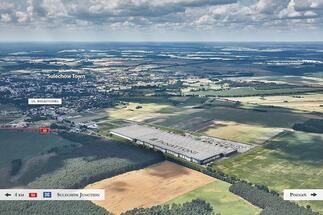 BestSecret will occupy the entire Panattoni Park Sulechów III with an area of ​​88.5 thousand square meters. sq m, with the possibility of expansion by another 42 thousand. sqm The brand will serve all its markets from here. We wrote about the BestSecret investment in July this year.
Currently, more than 30 percent of industrial facilities are intended for the e-commerce sector, and Panattoni, as the market leader, leads and sets trends in this area. Our experience and capabilities translate into further projects, such as the commenced construction of the facility for BestSecret, which in the future may be another client renting over 100,000 sq m. sqm in the region. Western Poland, and especially the Lubuskie Voivodeship, once again confirms its potential for servicing international enterprises - says Aleksandra Kucharek, development director at Panattoni.
In addition to warehouse and distribution space, the facility will also include offices that will occupy over 10.5 thousand square meters. sqm The investment will be certified under the BREEAM method at the Excellent level.
The key advantage of Sulechów is the proximity of the border with Germany, which is just over an hour away from the facility under construction. Moreover, 30 minutes away from the capital of the region - Zielona Góra. The S3 road runs less than 7 km from the investment, and the Zielona Góra-Babimost Airport is 11 km away.