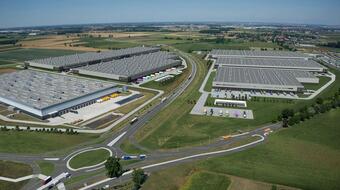 The facility that has been put into operation is one of the two projects carried out by the Antczak group at the Wrocław V Logistics Center. Ultimately, in the area of ​​50 ha, buildings with a total area of ​​approximately 240,000 sq m will be built. sq m Future tenants will be able to use the vicinity of the S8 route, as well as convenient access to the A4 and A8 motorways and the S3 and S5 expressways. The location allows for efficient distribution in Lower Silesia and the rest of the country, as well as in Germany and the Czech Republic.
The facilities on the premises of GLP Wrocław V Logistics Center will be certified in the BREEAM system at the Very Good level. Indoor lighting will be controlled by the DALI system. The need for artificial light will decrease thanks to the large number of skylights. The buildings will be adapted to the installation of photovoltaic panels. All tenants will be able to monitor the consumption of electricity, gas and water on an ongoing basis thanks to the so-called smart metering.
There will be shelters for bicycles next to the buildings, and chargers for cars and electric bicycles in parking lots. The existing old trees, including over a hundred-year-old oak, will be preserved on the plot.
GLP is a company specializing in the implementation and management of investments in the areas of logistics, real estate, infrastructure, finance and technology. GLP buildings located in Europe (over 4 million sq m of space, currently leased in 98%) are used by companies such as Amazon, DHL or XPO Logistics. GLP Europe has a stock of land that will enable the construction of another 4 million sq m. logistics space.