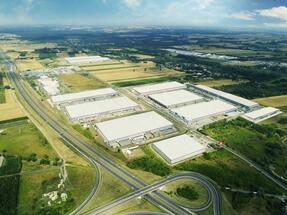 The certificate has been awarded to a new project in the park with an area of more than 17,000 sqm. This brings the total area of the park covered by BREEAM 'Excellent' or 'Very Good' certificates up to almost 27,000 sqm. This is in line with MLP's policy to have all its new projects BREEAM certified at at least the 'Very Good' level. During the certification process, the new unit received high scores in the 'health and well-being', 'waste', 'water and sewage management', 'energy', 'project management' and 'pollution' categories.
We build our facilities to meet the highest environmental standards and to benefit the environment as well as provide comfort to their users. We take care to make our surroundings green, upgrade the cycling infrastructure, put up shelters, install electric chargers and promote car-sharing. We are a conscious investor with over 20 years' experience, and we recognise that the expenditures we incur today will save us and our tenants money in the long run. It's also worth noting that green solutions increase the attractiveness of our offer by lowering operating costs for clients. This is vital to companies with long-term contracts. Green solutions are a 'must have' these days.
Agnieszka Góźdź, the sales director of MLP Group
MLP Pruszków II has an existing built-up area of more than 234,000 sqm with the potential being increased to almost 360,000 sqm.