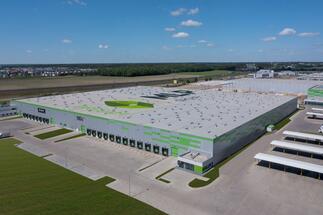 Under the concluded contract, Bevo leased over 22 thousand. sqm space intended for storage purposes. Another 946 sq m they will be offices. The functions of the general contractor were entrusted to WPIP. The transaction was mediated by the consulting company BNP Paribas Real Estate.
The new tenant specializes in water technology. Bevo supplies all metal and plastic components for piping systems: from pipes, fittings, shut-off valves and pumps to measuring and control devices.
Modern solutions will be used in the dedicated facility. A photovoltaic installation will be installed on the roof. The heating of the warehouse and office building will be based on the VRV system with the use of heat pumps. Energy-saving LED lamps will be used to illuminate the interior. At the same time, building management and monitoring of facility systems will be carried out using the Asset Information Model, based on the BIM methodology.
Park MLP Poznań West is the fastest growing center belonging to the MLP Group. Currently, there are over 55,000 under construction. sqm surface. The new halls will be elevated to 11.5 m. The MLP Poznań West project will ultimately provide approximately 150,000 sq m of space. sqm warehouse and office space on an area of ​​28.8 ha. The park is located on the western side of Poznań, near the S11 expressway, 7 km from the junction with the A2 motorway.