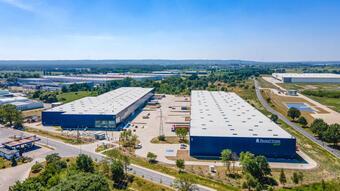 The Outstanding level confirms that a very wide range of pro-environmental and pro-social solutions have been applied in such a facility, which is perfectly in line with our "Go Earthwise with Panattoni" policy. We managed to achieve it in just four years of implementing the BREEAM certification system into the standard of our development. This is the result of the strong commitment of many people, from the Panattoni team and the general contractors to the assessors who guide us through the entire certification process. Mutual understanding of the idea of the green building allows us to deliver increasingly sustainable facilities, and on top of that, perfectly optimized in operation", says Emilia Debowska, Sustainability Director, Panattoni.
Panattoni Park Szczecin III is located in the capital of the West Pomeranian region on Kniewska Street. The two certified halls occupy a total of more than 30,000 sqm.
The realization of the investment was preceded by a detailed life-cycle cost (LCC) analysis of the facility, and the buildings were adapted to climate change. A plan was also prepared to adapt their functionality in terms of both the buildings themselves and their systems to possible future changes in use. A flood risk (low) and surface water runoff assessment was carried out for the project. The construction process itself proceeded in accordance with the concept of sustainability - during construction work, the developer monitored electricity consumption, water consumption and the impact of transportation, tracking CO2 emissions. Certified materials and products were used, as well as those that are resistant to deterioration and do not degrade with climate change. Recycling on the site exceeded 95 per cent, with as much as 96.46 per cent of the aggregate used on the site coming from recycled sources. This was helped by the general contractor's possession of ISO 14001 and detailed policies on the environment, waste and sourcing materials from sustainable sources.
The facility used some water-saving measures. State-of-the-art technologies – including leak prevention devices, water-efficient fixtures and motion detectors - reduced water consumption by 57.6 per cent. As a result of all these measures, CO2 emissions were reduced by 50.8 per cent.
The office spaces have been designed to provide increased daylight. The spaces were examined to ensure thermal comfort and appropriate acoustics. Panattoni also provided easier access for employees of all physical abilities and ages, including a stairlift for people with disabilities. A plan has been developed for safe movement around the facility, which includes pedestrian crossings and separate routes for pedestrians and employees' cars that do not interfere with the routes taken by delivery trucks. The developer has also focused on sustainable transportation, providing electric car charging and bicycle infrastructure. Additionally, a bus stop is only 500 meters away. Employees at the facilities have access to hot food, can withdraw cash from an ATM, and can use the gym and recreation areas.
Green areas around the development have also been cared for, increasing the biodiversity of the local ecosystem. Among others, 21 maple and rowan trees, 8 pedunculate oaks, and more than 200 various shrubs such as dogwood and elderberry were planted, and grasses were sown. These plantings do not require watering and rely solely on rainfall, at any time of the year, as confirmed by a report from a qualified ecologist. The eco-friendly meadows and pocket parks created by Panattoni maintain moisture, prevent soil erosion, reduce air temperature, and are among the most effective oxygen producers and carbon sinks. The right choice of plants also helps provide food and shelter for local fauna.
Panattoni has completed environmental certification for facilities in Europe totalling more than 10 million sqm, with another 6.5 million awaiting evaluation.
Source:property-forum.eu