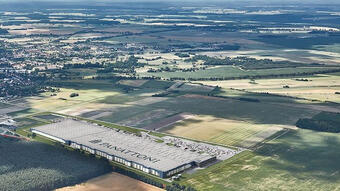 According to projections, internet sales revenues in Europe for the fashion industry could rise to over $365 billion by 2025 from a figure that was less than half the size in 2020. Poland is playing an important role in this growth, especially in the western part of the country, which is becoming an e-commerce fashion hub for the whole of Western Europe and particularly for Germany. Therefore, Panattoni is starting the work on Panattoni Park Sulechów III, which has been leased in its entirety by BestSecret, a leading German player and the owner of an internet store of the same name, which supplies goods to 27 countries across Europe. The business has leased 88,500 sqm with the option to expand by a further 42,000 sqm and will make use of 40,000 sqm of mezzanine and office space within the building with the office space accounting for over 10,500 sqm. Furthermore, the developer is preparing space for multi-layered shelving (Pick Towers) and ensuring that parts of the building are of raised height. The project is to be handed over in stages from January to June 2023 and is to be certified under BREEAM for a rating of 'Excellent'.
"Thanks to Panattoni's developments. Sulechów is becoming a centre for the clothing industry and a very important hub for Western Europe. After all, we are already building a BTS project here of over 60,000 sqm for an international company from the industry and now the area handed over to the sector in the region could be tripled. Once again, the importance of Western Poland has also been demonstrated for European e-commerce in general and this is shown by Panattoni's development. Last year we delivered a centre of over 200,000 sqm in Świebodzin for a global leader in the industry and this year we are starting the development of over 150,000 sqm for another giant in Iłowa. It is only a question of time before we reach a million sqm in the region," – says Aleksandra Kucharek, Development Director, Panattoni.
A key attribute of Sulechów is its proximity to the border with Germany, which is just over an hour from where the centre is being built. The location is around 30 minutes from Zielona Góra, the region's administrative capital, which is a great benefit in terms of access to workers. Just under 7 km from the development is the S3 road, which runs along Poland's western border and just 11 km away from the centre is the Zielona Góra-Babimost airport.