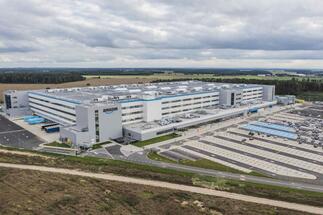 The total area of ​​the logistics center in Świebodzin is 193 thousand square meters. sq m, which will enable the storage of up to 30 million products. It is the second largest Amazon facility in Poland, right after the center in Gliwice. In addition, the building will be equipped with 58 docks for trucks and 28 km of conveyor belts. 1,000 people will find employment in the robotic logistics center in Świebodzin employees.
The building in Świebodzin is 100 percent. powered by electricity. This applies to the heating system as well as to hot water generation, which avoids the use of fossil fuels (natural gas) while maintaining energy efficiency as a top priority for the company. Heating, ventilation and air conditioning (HVAC) are controlled by a dedicated Building Management System (BMS). LED lighting is controlled depending on the availability of natural light and the degree of occupancy of the building, and the air quality in the rooms is constantly monitored. The building is equipped with 3.9 thousand. solar panels. Photovoltaic panels cover an area of ​​over 8.6 thousand square meters. sq m, and their total capacity is 1,755 kWp, which allows the company to partially supply the facility in Świebodzin with renewable energy and, for example, would be enough to supply about 480 single-family houses. Amazon has also equipped its logistics center in Świebodzin with more than 40 charging stations, which allow for the simultaneous charging of over 80 electric cars. Charging points are available free of charge to Amazon employees and visitors, including people with disabilities.
Simultaneously with the opening of the robotic logistics center in Świebodzin, Amazon has launched two STEM Kindloteki in the city, i.e. creative educational spaces designed to acquire knowledge and modern competences, available to residents of the city, poviat and surrounding areas. One of the multimedia zones is located in the branch no. 1 of the City Library in Świebodzin (39 Łużyckie Housing Estate), while the other is located in the Creative Initiative Community Center - Family Support Zone (2 Bramkowa Street).
STEM Kindloteka is an educational program implemented by Amazon in cooperation with the Digital Dialog Association. The main goal of the project is not only to popularize STEM (Science - Technology - Engineering - Maths) education among students and teachers, but also to integrate the local community.