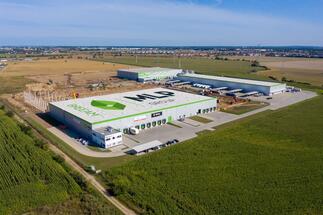 The enlarged MLP Poznań West park will cover a total area of app. 29 ha. More than 29,000 sqm of the eventual 150,000 sqm of space has already been completed. The first 8,800 sqm building was finished in 2019 and delivered to InPost. Another facility comprising 12,000 sqm of manufacturing and warehouse space was built in 2020, and in 2021 a third building of almost 8,500 sqm was completed, featuring a cold room equipped with an advanced quick-freezing chamber. Two more phases, of 43,000 sqm and 78,000 sqm, are now planned.
Prompted by the huge popularity of our MLP Poznań West project among both domestic and foreign investors, we have decided to buy adjacent land plots to accommodate its further expansion. Its excellent location, well-developed infrastructure and the availability of qualified workforce is what has been driving the region's development and boosting its attractiveness. Since the Poznań market is now considered one of the most attractive investment regions, we are comfortable building here on a speculative basis. Given the strong interest in warehouse space for lease in this location, I am convinced we will quickly commercialise the project. Its clear advantage lies in the environmentally sustainable solutions we now deploy as standard in all our projects, as part of our commitment to the environment, but also for the comfort of their occupants.
Agnieszka Góźdź, the sales director of MLP Group
The BREEAM-certified complex is located in the village of Dąbrówka, 14 km west of Poznań city centre. It lies just off the S11 expressway, 7 km from its junction with the A2 motorway and close to Poznań-Ławica airport. Its target tenant groups are mainly e-commerce, logistics, distribution and light industrial manufacturing companies.