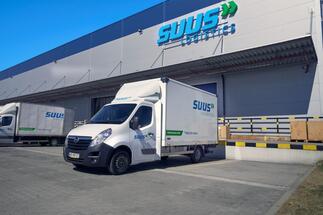 The company's first branch has been operating in Bialystok since 2010, offering warehousing, freight forwarding and customs agency services. With the launch of the new warehouse in Choroszcz, Rohlig Suus Logistics' contract logistics operational capacity in the Bialystok agglomeration doubles. The new facility covers an area of 2.8 thousand square meters, which means that Suus' total warehouse space in the region is already 7.3 thousand square meters. The Bialystok facility has a customs agency with a temporary storage warehouse and permission to use simplified procedures, which makes it much easier and faster to clear goods, in Choroszcz the Suus customs agency will start operating in the second quarter of this year.
- Thanks to its excellent location, ever-improving infrastructure and initiatives such as the Suwałki Special Economic Zone and Via Carpatia, Podlasie is growing faster and faster. For many companies from all over Poland, Bialystok is an important link in their supply chain or distribution for trade with the Baltic countries. This means an ever-increasing demand in the region for professional logistics services. Demand for warehouse services is still greater than the availability of space on the market, says Adam Galek, a member of the board of Rohlig Suus Logistics.
In the Choroszcz branch, as well as in the warehouse in Białystok, Rohlig Suus Logistics offers primarily warehousing, transshipment, e-commerce services but also a wide range of value-added services (all kinds of activities related to repacking, picking, kit creation, labeling, etc.).
- It is crucial for our customers to be able to take advantage of a comprehensive offer - one logistics operator should provide shipping, warehousing, customs services, but also, if necessary, repackage goods and prepare shipments according to the needs of end customers. That's why for many years we have also been developing all kinds of value-added services in Bialystok, such as co-packing, labeling, adding samples or banding. Thanks to the concentration of all competencies in one place, we are able to offer efficient and fast service," says Grzegorz Pawnuk, director of the Rohlig Suus Logistics branch in Bialystok.
The beginning of the year brought significant growth for Rohlig Suus Logistics also thanks to the acquisition of a 100% stake in Expert, a company specializing in professional deliveries from stationary and online stores to end customers - also in installation services: from furniture assembly to gas and electrical installations or installation of household appliances and white goods according to customers' guidelines.
Source: brandlab.pl