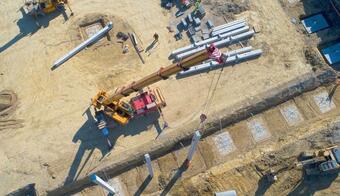 From the new location, the tenant will conduct e-commerce operations, serving several European markets. The company will also use a three-story office with an area of ​​6,000 sq m. sqm
Panattoni proves once again that it is a proven partner for the clothing industry, which focuses more and more on e-commerce. Globally, at the beginning of this year, e-commerce for the fashion industry was worth about USD 744 billion. Its value is expected to reach up to $ 1.1 trillion in 2026. These trends are reflected in the Polish market, which is increasingly becoming a hub for the whole of Europe. This is possible thanks to the strategic location as well as modern facilities that allow to handle the growing volumes of e-commerce clothing - comments Marek Dobrzycki, managing director at Panattoni.
There will be a photovoltaic installation on the roof of the building, and the increased number of skylights will allow additional lighting of workplaces. BMS and the high bay VNA zone will also be at the customer's disposal. Inside, there will be special zones for taking photos of products.
The investment will be certified under the BREEAM method at the Outstanding level. The facility will be constructed without the use of PVC (except for underground installations). Will be prepared, among others infrastructure for cyclists, terrace and outdoor gym, volleyball court, boule track, as well as central drinking water installation in the office. In the area of ​​the investment, employees will use electric car charging stations. Panattoni will also implement a rainwater recovery system.
On the Poznań market, Panattoni has already delivered well over 2 million sq m, both within municipal facilities, logistics parks and BTS development.