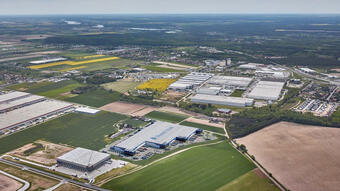 The facility will be developed in accordance with a very high level of environmental certification: BREEAM Excellent. Approximately 8500 sqm will be occupied by Geodis transport company. The company has recently taken over a logistics operator - PEKAES - for whom Panattoni has previously completed 11 developments across the country. Geodis will begin operations at the facility in October 2023.
"The decision to build a new park in the Greater Poland region is dictated by strong market data, which shows that this region is, for another quarter in a row, one of the most popular in terms of demand for industrial space in Poland", says Katarzyna Kujawiak, Development Director at Panattoni. "The experience gained from more than ten realisations for GEODIS, is proving invaluable during the current cooperation. We are providing dedicated space, which will mostly be a cross-dock warehouse with a covered side ramp for unloading. Years of cooperation confirm how much a proven developer means to understand the needs of a logistics operator," she adds.
"Growth, operational excellence and customer focus are the DNA of GEODIS. New investments and the development of the distribution network are part of the company's long-term strategy and operating philosophy. The city of Poznań, together with the entire potential of the Wielkopolska region, play a key role on the map of GEODIS' logistical operations", says Olivier Royer, Executive Vice President of GEODIS European Road Network activity.
Panattoni Park Poznań East II's location ensures easy communication with Poland's most important regions. Moreover, it is an excellent point for distribution towards Western Europe and Scandinavia. The facility is located near the A2 motorway, which connects the key centres of Central and Eastern Europe - Warsaw, Łódź, Poznań and Berlin. In addition, near the investment, the motorway intersects with the S11 expressway (Poznań Krzesiny interchange), which will allow access from Silesia to Pomerania, and the S5 (Poznań Wschód interchange) - connecting the capital of Greater Poland with Wrocław in the south and Bydgoszcz in the north.
Source:propety-forum.eu