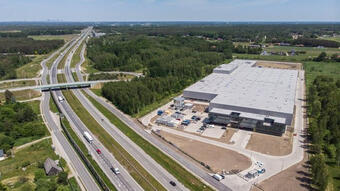 The company is to not only make use of over 31,000 sqm of industrial space but also office space with an area of around 1200 sqm designed by the ARCH-DECO architectural studio from Gdynia. The space has been prepared for the comfort of the workers which includes its acoustics, its air quality, and its access to natural light. Over 37,000 sqm of green space can be found on the grounds of the development.
"At Reynaers Aluminium, production is based on rigorous quality control at every stage and the key to the company's efficiency is a production and storage facility tailored to its operations. We are pleased that we have been able to supply a center that superbly meets the needs of the company's operations, while at the same time fulfilling the stringent demands of being environmentally friendly and energy efficient. This demanding and effective development is also another step in the green revolution that the entire branch is undergoing since Reynaers Aluminium's products play a key role in moving the real estate market towards sustainable development and limiting CO2 emissions into the atmosphere", says Michał Samborski, the Head of Development at Panattoni.
Four technology lines are to operate in the factory including three for painting and one for anodizing components. For their own needs, the company has installed a Demi Station unit providing demineralized water, as well as a WWT wastewater treatment plant. The plant's production is based on environmentally friendly chrome-free painting and anodizing lines. Part of the electricity requirements are to be met by solar panels installed on the roof. Additionally, heat pumps will be used to heat the office building.
The Reynaers Aluminium factory is located next to the S8 expressway, which means the center of Warsaw can be reached in around 30 minutes, while the road also provides the factory with ready access to key centers in the country.