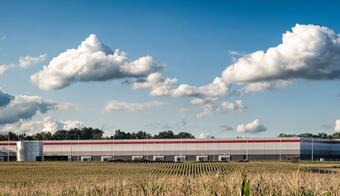 The site is located next to the A1 motorway and 25 km from the Sośnica road junction, which connects two trans-European motorways, A1 and A4. Gliwice, Zabrze and Katowice are within 20-30 minutes by car. The location ensures efficient distribution of products throughout the country, but also to Germany and the Czech Republic. This is the fourth plot of land in the company's portfolio, located in southern Poland, that P3 has acquired in recent months.
Plots of land purchased last year in southern Poland - in Dębieńsk and Kąty Wrocławskie, as well as municipal plots in Katowice and Wrocław - will significantly increase the portfolio of P3 logistics parks in key locations in the country. They will allow us to offer our clients who want to operate in this region of Poland the highest quality facilities fully adapted to their requirements - emphasizes Bartłomiej Hofman, managing director of P3 Logistic Parks in Poland.
The construction of big-box warehouses is planned in the newly purchased area. The buildings will be certified in the BREEAM system at the Excellent level. The construction of the facilities is planned to start in the first quarter of 2023. The P3 transaction was advised by act BSWW legal & tax.
Silesia is the second largest warehouse market in Poland and one of the most important distribution hubs in Central and Eastern Europe, which is mainly due to a well-developed infrastructure. It is a strategic location from our point of view, which fits perfectly with the P3 development plan in Poland - comments Karolina Adamczak, senior development manager of P3 Logistic Parks in Poland.
P3 manages assets with an area of ​​over 6.6 million sq m. and a land bank 1.6 million sq m. intended for further expansion. The company's headquarters are in Prague.