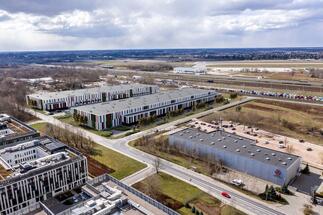 7R City Park Warsaw Airport III is a complex of two buildings with a total area of ​​24 thousand. sq m According to the requirements of individual tenants, it will include warehouse, laboratory and office parts. Kwadrat studio is responsible for the architectural design, and the general contractor is Goldbeck. The investment is BREEAM certified at the Excellent level. The facility will install, among others solar panels, gray water system and LED lighting.
I am glad that more and more companies from the medical industry choose 7R facilities. We are constantly working on new solutions dedicated to this sector, meeting the strictly regulated requirements that must be met by entities operating on such a market. Our experience in the field of specific adaptations of warehouse and production space for companies such as Medezin, Pharmalink or Cefea allows us to provide new, high-quality facilities in the medical and pharmaceutical industries - says Katarzyna Litwin, leasing director at 7R.
At the end of 2022, the 7R facility at ul. Osmańska in Warsaw, Stryker will move in. It is a company offering innovative products and services in the field of orthopedics, medical and surgical equipment, as well as neurotechnology and spine. The tenant will occupy 1.8 thousand. sq m warehouse space and over 1.1 thousand. sq m office and laboratory space.
Also at the end of this year, ITP will start its business operations in the park. The company specializes in the selection of the best technologies and global brands in the field of aesthetic medicine, medical devices and wellness equipment. On the area of ​​4.4 thousand. sq m there will be a service and warehouse part of ITP. All rooms prepared for this tenant will be rigorously controlled and maintained at a temperature of 15-20 ° C. Additionally, an office section with an area of ​​1.1 thousand sq m will also be built. sq m for company employees.
At the beginning of 2023, the tenants at ul. Osmańska will also be joined by Komtur Polska, which is part of the international Komtur Pharmaceuticals group. The company's activity is focused on the distribution of specialized, innovative preparations, used in rare therapies intended for inpatient treatment, and the management of the life cycle of pharmaceutical and biotechnological products. In the 7R building, the company will occupy 2.7 thousand. sq m warehouse space and 530 sq m. office space.
The tenant who first chose 7R City Park Warsaw Airport III was Polfa Warszawa, which decided to rent 5.5 thousand. sq m warehouse and production space with office facilities.