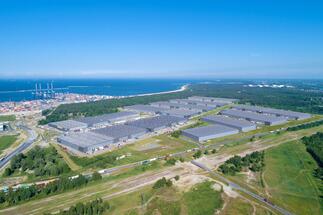 Complex SAD supports companies dealing with import and export of goods, providing customs and forwarding services and representing clients before the Customs Office. It also offers storage of goods as well as their reloading and packaging. The tenant was represented in the negotiations by the consulting company Newmark Polska.
The support of Newmark Polska in the talks was crucial for us and allowed us to jointly negotiate very good conditions - emphasizes Łukasz Borkowski, director, Complex SAD.
The freight forwarder has decided to extend the lease and expand the leased area, among others due to the possibility of taking over the adjacent module within the building.
On behalf of Complex SAD, we negotiated attractive lease terms just before the increase in rates - adds Michał Rafałowicz, regional director at Newmark Polska.
The Pomeranian Logistics Center in Gdańsk consists of A-class warehouses built and managed by GLP. The investment is located in the immediate vicinity of the Deepwater Container Terminal, approximately 16 km from the Tricity Beltway. Tenants take advantage of technical solutions that favor safety, media savings and the comfort of employees.