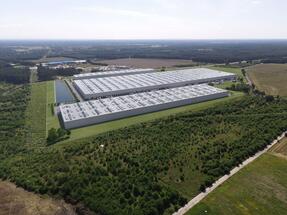 ermes will process returns for e-commerce companies from the Otto group in the new warehouse. It plans to start operating in the first half of 2023.
The conclusion of a lease agreement with Hermes at CTPark Iłowa is not only great news for CTP, but also for the surrounding community. It means about 1 thousand. stable jobs for the inhabitants of the Lubuskie region - explains Bogi Gabrovic, CFO at CTP Poland.
Negotiations are underway with potential tenants interested in the remaining space in CTPark Iłowa - an investment which, in addition to space leased by Hermes Group, consists of two other buildings, 110,000 sq m. sqm GLA and 20 thousand. sqm GLA. The park in Iłowa is located at the international junction of the E36 route, connecting Wrocław and Berlin, 40 km from the Polish-German border.