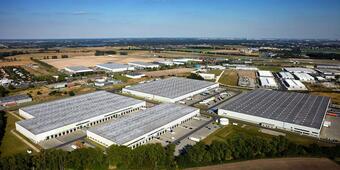 Global Reach Logistics cooperates with European courier companies, creating solutions for e-commerce - from the moment of receiving the goods, through completing, packing and shipping. A year ago, Prologis also supported the tenant in warehouse operations - as part of the Prologis Essential MarketPlace platform, the facility was equipped with LED lighting and properly configured forklifts, lifts and pallet trucks.
Due to the dynamic development of the company, we have decided to rent a space twice as large as before, which, like the previous warehouse, will be fully adapted to our requirements - comments Harry Johnson, sales and marketing director at Global Reach Logistics.
Our Essential MarketPlace platform makes it much easier to adjust the warehouse to the individual needs of customers - by configuring and preparing key operational equipment for the warehouse - assures Michał Czarnecki, vice president, head of capital deployment & leasing of Prologis in Poland.