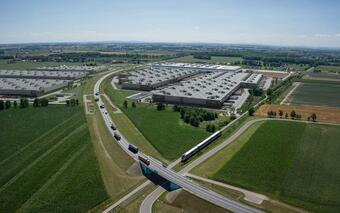 The investment is another project implemented by GLP in cooperation with FB Antczak in this center. In September, the general contractor began the construction of a facility with an area of ​​41,000 sq m. sq m Ultimately, in the area of ​​50 ha, buildings with a total area of ​​approximately 240,000 sq m will be built. sq m, certified in the BREEAM system at the Very Good level.
GLP Wrocław V Logistics Center will be equipped with numerous solutions conducive to energy saving. The demand for artificial light will be reduced thanks to the above-standard number of skylights, and the buildings will be adapted to the installation of photovoltaic panels. All tenants will be able to keep control the consumption of electricity, gas and water thanks to the intelligent measuring system (called. Smart metering ).
One of the features of the Wrocław project is the biodiverse, green surroundings of the buildings. There will be shelters for bicycles nearby, and chargers for electric vehicles in parking lots. Access roads and parking lots within the investment area will be illuminated with energy-saving LED lamps. The existing old trees, including over a hundred-year-old oak, will be preserved on the plot.