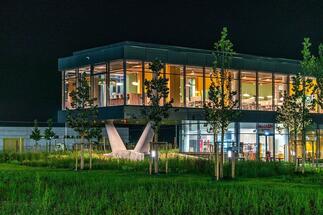 CTPark Warsaw West will be a cross dock facility, which will be erected on a plot of over 50 ha. As part of the complex, CTP will build four buildings, and a fifth is also planned. The entire investment is to offer a total of over 233,000 sqm. sqm space corresponding to the needs of tenants from the logistics and production sectors. As part of this project, the developer also plans to supplement it with the Clubhouse format - a multi-functional space available to the park community, as well as local residents. CTPark Warsaw West will be the company's first project in Poland expanded with this module.
The latest CTP investment is located right next to the A2 motorway junction, in the vicinity of the planned Central Communication Port. According to the design, the roofs of the buildings are adapted to be covered with photovoltaic installations, which will provide the entire complex with green energy. The buildings will be equipped with systems for monitoring and managing media and energy consumption. It is planned to install chargers for DC electric cars in the complex. Tenants will also have full freedom in terms of arranging office modules.
The general contractor of the first phase of the investment is Atlas Ward Polska. The first of the CTPark Warsaw West buildings will be commissioned in the third quarter of 2023.