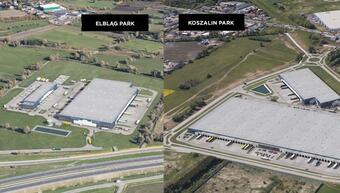 In Koszalin, two new industrial buildings with a total area of 41,000 sqm are to be built on a 7.83 ha site. Robotisation specialist AutoStore (which pioneered the Cube Storage Automation system) has already leased almost 14,000 sqm and will move into the new building B in Q1 2022.
In Elbląg, Accolade is investing in the construction of two warehouses with a total area of 20,000 sqm. Transport and logistics firm DPD will be moving into 2,000 sqm in one of the buildings in Q1 2022.
Western Pomerania, thanks to its location, attracts many investors, including business from Scandinavia and Germany, becoming an attractive location for the warehouse market. Koszalin is, after Szczecin where Accolade is strongly present, the second-largest urban centre in the Voivodeship and a city with great potential for economic development. The park in Koszalin will therefore be an excellent proposition for companies wishing to develop in Pomerania while offering the advantages of being located in the Słupsk Special Economic Zone. In turn, Elbląg will also develop thanks to its ongoing infrastructure projects. The construction of the canal on the Vistula Spit will enable ships to enter the area of the Vistula Lagoon and will also enable access to the Elbląg port. Both cities, thanks to their universities, offer access to a qualified workforce.
Michał Białas, the country Head of Accolade Poland
Koszalin Park is to be developed in line with BREEAM 'Excellent requirements, while Elbląg Park will be built to meet BREEAM 'Very Good' certification.