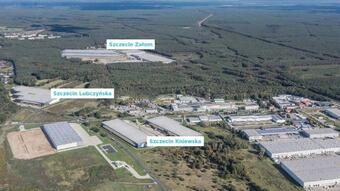 One of the plots is on ul. Kniewska, about 15 km east of Szczecin city centre, where the company is planning to build two halls in one phase with a total area of more than 31,000 sqm. Almost 11,000 sqm of this has already been leased for an e-commerce logistics provider. The other site is nearby, on ul. Lubczyńska, where Accolade plans to develop a single building of 42,000 sqm. The total investment cost for both projects amounts to EUR 60 mln.
The volume of online purchases is growing rapidly, and the success of such companies is not determined by having an exclusive store on city high streets but instead by having well-managed logistics. The number of such companies is increasing, and we are building a quality basis for them as through expanding our operations in Szczecin.
Milan Kratina, the CEO of Accolade Group
Accolade has now invested almost EUR 190 mln in warehouse development in the Szczecin region with Szczecin Park being the largest complex in Accolade´s portfolio, with more than 220,000 sqm.