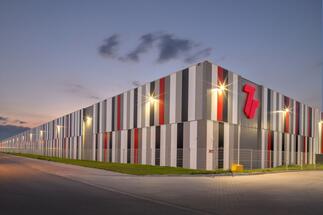 7R facilities are characterized by technological and pro-ecological solutions. They ensure compliance with ESG standards and are environmentally friendly. Innovations also mean specific savings for tenants, related to, inter alia, with energy-saving buildings.
We see great interest in our facilities, both from tenants and investors. At 7R, we offer big box warehouses, tailor-made BTS or city warehouses from our City Flex Last Mile Logistics line. In 2022, we intend to put into use approximately 1 million sq m. of space, and in the middle of the year, as planned, the construction of our first foreign investment in the Czech Republic will begin, announces Bartłomiej Krawiecki, vice president of the management board and COO at 7R.
In the developer's facilities, companies from various industries, such as logistics, trade, pharmacy and automotive, conduct their operations. The portfolio of 7R tenants has significantly increased in the last year. The company has leased over 500,000. sq m area - by 25 percent. more than a year ago - under 64 contracts.
In 2022, in addition to completing the construction of new logistics parks and city warehouses, the developer also intends to put into use facilities implemented in the Built-to-Suit (BTS) formula. One of them is a warehouse for Aluprof, a Polish producer of aluminum systems, located in Silesia. In turn, a warehouse for Żabka is being built near Warsaw, with a total area of ​​approximately 60,000 sq m. sq m The center will be equipped with innovative automatic and pro-ecological solutions, which will be confirmed by the BREEAM certification.
According to experts' reports, warehouses are the asset class that attracts the greatest interest of investors in Europe. Last year, the developer sold 17 investments for a total amount of almost EUR 400 million. This is a huge increase compared to 2020 - back then, 7R sold seven projects with a total value of EUR 75 million.
The previous record year for us confirmed the right direction of our business development. Investors are looking for high-quality products that ensure profit in the long term and - which is very important - meet ESG standards. Our partnership with the largest global investment funds shows the strength of the 7R real estate portfolio. Plans for this year are even more ambitious - adds Łukasz Jachna, Chief Capital Markets Officer, Member of the Management Board at 7R.
The offer of 7R also includes property management. Currently, the Property Management team responsible for this service manages 48 buildings with a total area of ​​over 1 million sq m.