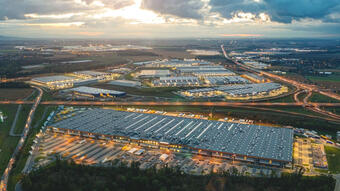 At the end of Q1 2023, Poland's total warehouse and industrial stock was close to the 30 million sqm mark – it surpassed 29.9 million sqm, a 19.3% rise on the same time in 2022.
New supply for the first three months exceeded 1.9 million sqm, the best quarterly result in the history of the Polish industrial market, surpassing the previous record of 1.25 million sqm delivered in Q1 2022. At the end of March 2023, the volume of warehouse and industrial space under construction amounted to 2.1 million sqm, down by 38% on Q4 2022 and over 55% year-on- year.
"After a period of heightened development activity which resulted in historically high supply levels in recent quarters, developers are now focused on securing land and planning new projects. However, project financing constraints, especially with regard to speculative construction, and geopolitical instability remain significant barriers to further development", says Jakub Kurek, Head of Industrial and Warehouse, Newmark Polska.
Total take-up for Q1 2023 surpassed 1.2 million sqm, down by close to 22% year-on-year and 20.6% quarter-on-quarter. This represents the lowest leasing activity in Poland since Q1 2020. Net warehouse and industrial take-up hit 661,800 sqm, accounting for almost 55% of all deals.
"Tenants have now become more cautious about leasing warehouse space, as stubbornly high inflation is eroding the purchasing power of consumers so further changes to stock-piling and supply chain policies are made", says Agnieszka Giermakowska, Research & Advisory Director, ESG Lead, Newmark Polska.
The structure of demand in Q1 2023 was dominated by new leases (48.9%). Renegotiations increased their share in total take-up for the second quarter in a row to 45.5%, up by 3.5 pp on Q4 2022 and 19.9 pp compared to Q1 2022. Expansions made up the remaining 5.6%. It is also worth noting that a total of 61,000 sqm was transacted in the first three months of the year under shorter leases of up to one year.
The largest lettings of the three months to end-March 2023 included a lease for 56,000 sqm in Panattoni Park Szczecin I renewed by Tyco Electronics Polska, Shein's deal for 55,000 sqm in Panattoni Park Wrocław Logistics South Hub and a new contract for 36,700 sqm in GLP Kraków Logistics Centre III signed by MCG EastBridge. Occupiers are now more focused on warehouse sustainability, energy efficiency and solutions helping to meet the social needs of future occupants.
At the end of March 2023, the overall vacancy rate stood at 6.4%, an increase of 2.3 pp over the quarter and 3.1 pp year-on-year. Vacant stock comprised 1.92 million sqm in existing buildings and 1.16 million sqm in the pipeline. For the first time since the pandemic, warehouse availability in existing industrial parks exceeded the volume of unoccupied space in schemes under construction.
Rental rates remain under upward pressure, especially in the most sought-after locations and buildings featuring modern technologies and ESG solutions. At the end of the first quarter of 2023, the highest warehouse rents were in Warsaw (zone 1).
source:property-forum.eu