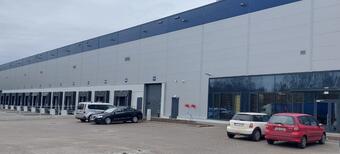 The new warehouse, located at 22A Lubczynska Street, doubles the operator's existing warehouse space and operational capacity in the region. In turn, employment at the Szczecin branch is increasing by 40 people.
- This is our second facility in Szczecin, which shows the growth of the region's economic potential in recent years. West Pomerania is a natural logistics hub for trade with Scandinavian countries, and this corridor is very important in our road and intermodal transport development strategy. We are intensively expanding general cargo and full truckload connections in this direction. Sustainability issues are very important for customers in this direction, so we have paid special attention to ecological solutions in the new location," says Adam Galek, board member of Rohlig Suus Logistics.
Rohlig Suus Logistics has been present in the West Pomeranian Voivodeship since 2009, where it provides, among other things, comprehensive services in warehouse services, customs and freight forwarding. What's more, since this year the logistics operator has been expanding its range of services with the acquisition of Expert, a company that handles last-mile pallet deliveries, as well as providing additional services such as bringing and assembling furniture or installing household appliances and consumer electronics. One of Expert's branches is now operating in Szczecin. Specialized delivery, however, is not the only thing Suus plans to compete with. The new warehouse at Lubczynska will also specialize in value-added services - picking, labeling, banding or creating product kits. Comprehensive customs services are also important for customers.
- Among other things, the new warehouse offers storage and picking services using both traditional racking and block storage. Our services are aimed at companies in the automotive, packaging and power tool industries, among others. We have a recognized place, i.e. a separate space where a company can make a customs declaration under the so-called simplified procedure, without the need to travel with the cargo to the customs office," explains Łukasz Szymański, director of the Rohlig Suus Logistics branch in Szczecin.
The Szczecin warehouse is in the process of obtaining a BREEAM certificate, proving that it was built in accordance with sustainable development principles and that it is a people- and environment-friendly building. Moreover, the branch uses LED lighting with a smart control system (DALI), among other features. The new office space, on the other hand, was designed in accordance with the organizational culture - Office of the future, so that female and male employees will enjoy spending time there. Among other things, there are areas for both collaborative and individual work, as well as a special rest area for drivers.
Source:brandlab.pl