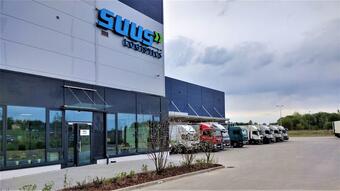 The new facility, located at 20 Ekonomiczna Street, is more than 60 percent larger than the previous warehouse, which will enable faster and more efficient handling of goods. What's more, the new warehouse space will allow doubling the existing number of pallet spaces. In Koszalin, the Polish operator is targeting customers in the food or industrial sectors, among others.
- We have recognized the potential of the West Pomeranian region for many years. This is our second investment in the region recently," says Adam Galek, member of the board of Rohlig SUUS Logistics. - The new warehouse significantly increases our capabilities, which is particularly important in the context of the development of our services in both domestic and international road transport. We firmly believe that the new facility will allow us to continue the company's organic growth in this part of Poland, and our support for the local community and business will grow every year," he adds.
The warehouse in Koszalin is another investment Rohlig SUUS Logistics has made in recent months. In addition to the already-mentioned opening of a new warehouse in Szczecin, new branches were also recently opened in Lublin or Białystok. At the beginning of the year, the Polish logistics operator also strengthened the range of services it provides, with the acquisition of Expert, a company that handles last-mile pallet deliveries, as well as providing additional services such as bringing and assembling furniture or installing household appliances and consumer electronics.
- The new warehouse significantly increases our capabilities in the region and responds to the growing needs of our customers. We are proud to realistically support many entrepreneurs in the development of their businesses, some since the establishment of our branch in 2016. We believe that this space will not only contribute to their success, but the modern, friendly office will increase SUUS' importance in the Koszalin labor market," says Iwona Suszek, manager of the Rohlig SUUS Logistics branch in Koszalin. - In the next steps, we plan to develop our operations in the area of e-commerce and value-added services such as picking and labeling, among others, she adds.
SUUS' new facility in Koszalin is currently in the process of obtaining a BREEAM certificate at the Excellent level, emphasizing that the building was constructed in accordance with the highest principles of sustainable development. The warehouse is equipped, among other things, with a smart energy management system, spacious office windows (which increase the level of natural lighting), twilight sensors, full LED lighting or charging stations for electric cars. Plans also include the creation of insect- and bird-friendly spaces and flower meadows, among others. The new office space, meanwhile, has been designed according to the SUUS standard - Office of the future - so that female and male employees will enjoy spending time there. Among other things, there are areas for joint and individual work, as well as a special rest area for drivers.