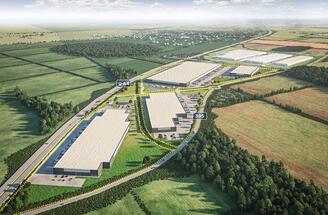 Polish road haulage specialist Regesta has leased 17,387 sqm of warehouse and 158 sqm of offices in the logistics centre in Wrocław. It was represented during the search for the new location and in the lease negotiations by Cresa.
The building leased by Regesta has been built to a higher fire resistance standard – above 4,000 MJ/sqm – and customised to the client's needs and requirements, including a forklift charging area. Additionally, for this project we have set up a 50kW photovoltaic system that will contribute to environmental protection and reduce the service charges for our tenants.
Wojciech Dachniewski, the business development director of Hillwood Poland
Hillwood Wrocław East is located in Wojkowice (in Żórawina district), close to the Wrocław East exit of the A4 motorway and 20 km from the centre of Wrocław. It comprises seven buildings with a total area of over 210,000 sqm and is now fully leased.