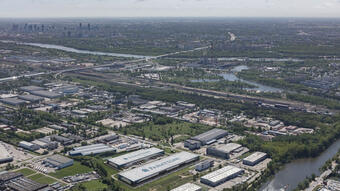 Panattoni's industrial space deliveries in and around Poland's capital city are approaching a figure of 2 million sqm and a significant part of this portfolio is formed by developments on the outskirts of the city. Among other developments, Panattoni has completed its largest project to date in Warsaw – the Panattoni Park City Logistics Warsaw IV complex comprising a two-building complex in Annopol with a combined area of 39,000 sqm.
One of the buildings has been leased in its entirety by TRUMPF Huettinger, which is to make use of the 19,200 sqm of warehouse and production space as well as the 3,200 sqm of offices from July this year. The company specialises in the design and production of electronics for industry. The company's solutions provide stable power for high-tech industrial products. Within City Logistics Warsaw IV TRUMPF Huettinger is to mount electronic systems as well as other elements and components for the broadly understood industrial electronics industry. Panattoni is to modify the building for its permanent operations and ensure a stable temperature in accordance with the demands of the tenant.
"Annopol has for the last ten years been an industrial hub and a very important centre for industry, with production plants that have played a crucial role in the region. In a time when stable supply chains are being secured, which has resulted in nearshoring, or the relocation of production facilities closer to the customer, such a location has once again risen in its significance. We are pleased that such a development as City Logistics Warsaw IV, has reconnected with the tradition of the area to create the right conditions for production and that due to its location on the outskirts of the city, excellent access to highly qualified labour is assured. Panattoni, thanks to its presence in key locations in Warsaw, was quickly able to offer space adjusted to the needs and the operations of TRUMPF Huettinger," says Marek Dobrzycki, the Managing Director at Panattoni. "With its strategic location in the centre of Europe and being close to Germany where TRUMPF Huettinger is headquartered, Poland is the second largest global market for the company's operations," he adds.
City Logistics Warsaw IV is in Warsaw's Annopol area, 11 km from the centre of the city and barely 2 km from the S8 expressway which connects the capital with cities such as Białystok, Łódź and Wrocław. Being a city development, it is nearby tram lines and has direct connections with other districts.
The Annopol park comprises two buildings with a combined area of 39,000 sqm where besides TRUMPF Huettinger, companies producing fans, engines and lathes will also operate their production facilities. The development in Warsaw's Targówek district will also be equipped with numerous sustainability solutions. The developer is planning plantings for the centre's site as well as green relaxation areas with amenities for the workers. Moreover, the building users will have an outdoor gym at their disposal and outdoor furniture made from used wind turbine blades. Additionally, there will be bicycle parking and electric vehicle charging stations. Energy and water usage is also to be significantly reduced – through, for example, the use of grey water and rainwater.
Source: property-forum.eu