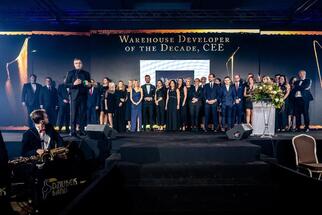 Panattoni – an undisputed industry leader. Eurobuild Awards are intended to showcase businesses and projects which significantly contribute to the development of the commercial property sector. In this year's tenth jubilee edition of the event, the jury also selected the enterprises which have made the strongest impact on the CEE market over the past 10 years. In the category of warehouse space, there was only one leader – Panattoni Europe was honoured for delivering 5.1 million sqm of warehouse space built in 2009-2019 on close to 1380 hectares of land. The developer was also praised for implementing innovative technologies and upholding the commitment to environmental certification in their projects.
The Warehouse Developer of the Year title, in turn, came by virtue of the excellent business results achieved from October 2018 to October 2019. In this time, the company completed 2.3 million square metres of new warehouse and industrial space, including 180,000 sqm at the Central European Logistics Hub, and warehouse parks in cities like Poznań, Warsaw, Gdańsk, and emerging markets, like Zielona Góra, Lublin and Bielsko-Biała. The developer was very active in Czechia, too, and as of 2019 entered Slovakia with a logistics centre project next to the Kosice airport.
One of this year's projects by Panattoni also claimed the Warehouse of the Year award, namely the largest, multi-storey logistics facility in Poland built for Amazon in Gliwice. Panattoni's eighth project for Amazon has more than 210,000 sqm of space and four storeys armed with Amazon Robotics technologies. Developed on a site totalling nearly 23 ha, the building is a record-breaking 317 m long, 182 m wide and 26.7 m high. Its floor area is the equivalent of 29 football pitches!
Robert Dobrzycki, Chief Executive Officer Panattoni Europe, comments on the accomplishments in the competition: "Our developments keep breaking records year after year, in terms of both volume and technological advancement in the delivered facilities. As a developer, this is how we respond to our customers' needs. We are therefore thrilled to be recognised in the Eurobuild ranking, which confirms that the development strategy we adopted is successful".
Panattoni's consistent rise in the European commercial property market is due mainly to the people behind the company. This did not go unnoticed at Eurobuild Awards, where Robert Dobrzycki, Panattoni Europe's CEO, was honoured with a special award for his contribution to market development. The European arm of Panattoni Development Company has been led by Dobrzycki from its very beginning in 2005. Under his management, the company has systematically increased its market share, and is now the largest developer of warehouse and production facilities in Europe. It operates branches in Germany, United Kingdom, Czechia and Slovakia. The Netherlands office opened its doors as of 1 December, and the opening of a new office in Spain is planned for February 2020. To date, the company has delivered close to 9 million sqm of space in Europe, with 6.9 million sqm in Poland alone (out of approx. 18 million square metres in total). More than a third of the space is dedicated to e-commerce operations, and a further 25 per cent – to advanced manufacturing space.
Source: Panattoni