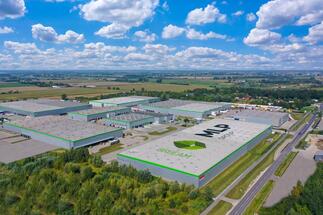 Contracts were signed within the framework of new investments, expansions and renegotiations. The business was developed in the Polish, German, Austrian and Romanian markets. The Group currently operates 22 logistics parks and manages an area of more than 1 million sqm. At the same time, the development potential of its investment portfolio exceeds 1.6 million sqm.
The greatest tenant interest was focused on the space offered by MLP Group within the MLP Pruszków II and MLP Poznań West logistics parks. These are warehouse complexes located in the immediate vicinity of the largest urban agglomerations. The space leased in them accounted for more than 60 percent of MLP Group's total contracting last year. The MLP Pruszków II project is a logistics center located near Warsaw, in the municipality of Brwinów, 5 km from Pruszków. It is also the largest complex in the region, with a target lease area of 420,000 sqm. The MLP Poznań West park, on the other hand, will ultimately provide more than 140 thousand sqm of warehouse and office space.
In the current year, we expect to lease about 250-300 thousand sqm of space. If we achieve such results, they will provide us with about 20 percent rental growth compared to last year's achievements. The assumptions are realistic, as the light industry segment is very active all the time, which is related to the transfer of production from Asia to Europe," added Agnieszka Góźdź, board member, chief development officer, MLP Group.
In accordance with the group's standard, all new investments under construction are obligatorily subject to BREEAM certification of at least Very Good. MLP Group's strategy in terms of ecological solutions also involves adapting existing facilities to the requirements of green certificates.
Source:eurobuildcee.com