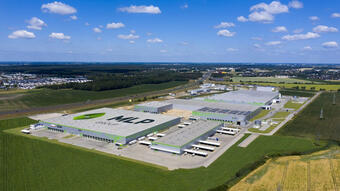 MLP Group has signed an agreement to purchase a plot of land in Dąbrówka on the west side of Poznań. The acquired 6 hectares of land is adjacent to the MLP Poznań West logistics centre, which is being expanded. The plot will accommodate an additional 30,000 sqm of warehouse space. As a result, the target commercial area of the logistics complex will increase to more than 170,000 sqm, and the plot will expand to a total of 35 hectares.
The MLP Poznań West logistics park is one of the fastest expanding logistics centres owned by the MLP Group. Its construction began in 2019. The entire existing site has been fully developed to this point, offering over 140,000 sqm of warehouse and office space. All that space is 100% leased. W.P.I.P. was responsible for the construction of all warehouse facilities within the MLP Poznań West project.
"The purchase of the plot will enable us to expand the target size of this highly sought-after logistics centre. All the available space has already been leased, resulting in the complete commercialisation of the park. But there are more businesses looking forward to leasing space in the park. Tenants are attracted by the excellent location and the high standard of the space offered. They also appreciate the fact that the facilities are being built in accordance with the principles of sustainability and are BREEAM-certified as a standard practice. The use of green solutions not only benefits the enviroment, but also helps tenants reduce their operating costs. It also improves the comfort of employees", emphasised Agnieszka Góźdź, Member of the Management Board and Chief Development Officer at MLP Group S.A.
The logistics center is being developed in line with the principles of sustainable construction, with all the buildings BREEAM certified as 'Excellent'. Solar PV systems are being installed on the roofs of the buildings. In addition, infrastructure for cyclists, EV charging points, and insect hotels have been built on the park's premises. Extensive glazing has been incorporated in the office area, enhancing access to daylight and creating better working conditions for employees.
MLP Poznań West is a distribution centre conveniently located on the western side of Poznań, at the S11 expressway and only 7 km from the A2 motorway and S11 junction. The target tenant group includes primarily e-commerce, logistics, distribution and light industrial manufacturing companies. With the additional plot, the MLP Poznań West project will ultimately offer more than 170,000 sqm of warehouse and office space. Selected buildings have been awarded with BREEAM certification.
source:property-forum.eu