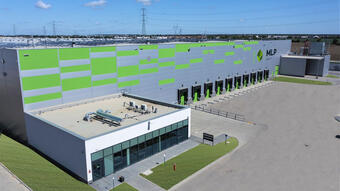 "The situation in the modern warehouse industry remains strong. We can see a widening gap in the market as the supply of new space has dropped significantly and is disproportionate to only a slightly lower demand. We are seeing strong demand from tenants looking for attractive facilities. Therefore, we have decided to increase the scale of our speculative development projects. We want to expand our portfolio by adding more completed space we can offer to potential tenants at short notice. We can see part of the market is headed in this direction. By offering move-in-ready space, we will be able to meet strong tenant demand and generate higher rates of returns", notes Agnieszka Góźdź, Member of the Management Board, Chief Development Officer, MLP Group S.A.
The speculative development projects MLP Group is about to launch will be sited at four logistics parks in Poland and will deliver a total of about 75,000 sqm of space. The largest portion, nearly half, of the space will be built at MLP Pruszków II. New space will also be available at MLP Gorzów Wielkopolski and MLP Gliwice. The facilities will be delivered as soon as later this year and early next year.
MLP Group is placing a strong focus on sustainability as part of its warehouse portfolio expansion. In line with the Company's standard practice, BREEAM certification with a rating of Very Good or higher is obligatory for all its new projects. MLP Group's sustainability strategy also provides for adapting its existing facilities to meet the green certification requirements. Electricity, water and gas meters installed separately for the individual building sections and remote meter readings will help optimise utility consumption. Rainwater tanks will also be installed. MLP Group engages in activities supporting biodiversity by, among other things, planting trees, sowing flower meadows, putting up insect hotels, and creating green areas. It also encourages cycling by building bike shelters. Plans include sorting and recycling waste in all the logistics parks by launching a zero waste programme. Another strategic task is the development of solar photovoltaic systems.
Source:property-forum.eu