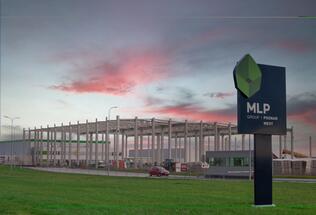 The lease, which has been brokered by Poznań-based Profi-Home, includes 9,600 sqm of warehousing, with the remainder to be fitted out as office space and staff amenities. The construction work on the BTS project has already started and is scheduled for in Q1 2022.
Polish logistics provider Hart Logistics specialises in freight forwarding, operating domestically and on the international market, including road haulage, airborne, sea and rail freight services. With the lease at MLP Poznań West, warehouse logistics are now to be added the company's existing portfolio.
Recently we have seen booming demand for modern warehouse space in the region of Poznań. Thanks to the centre's great expansion potential, we are able to offer the client a facility tailored specifically to its business needs. We specialise in the delivery of advanced built-to-suit facilities, which means that our Clients always receive exactly what they need and require.
Agnieszka Góźdź, the sales director of MLP Group
MLP Poznań West is situated off the S11 expressway around 7 km from its junction with the A2 motorway. The complex is focused primarily on e-commerce, logistics, distribution and light industrial production companies. It will eventually comprise app. 133,000 sqm of warehouse and office space.