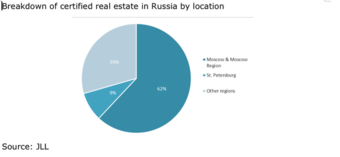 According to JLL, a record-breaking amount of real estate, 1.1 million sqm, was certified under international standards in 2015. In Q1-Q3 2016, the total amount of 'green' real estate has increase by 627,000 sqm.
"Last year's peak had to do with completed certification of a number of large projects, including stadiums and warehouses," commented Ksenia Agapova, Head of Sustainability Services, JLL, Russia & CIS. "In 2016 there have been fewer properties of that kind among certified objects, and new construction generally slowed within the country, hence the more modest results we see now. Nonetheless, most developers today consider environmental certification as a part of standard practice for their new construction projects."
The Moscow Region has the highest amount of certified buildings: with a total of more than 2.2 million sqm, or 54 properties. St. Petersburg is second with 310,000 sqm, or 13 properties.
Most (1.2 million sqm—more than a third) of the certified space is offices. Second place goes to warehouses/industrial assets and sports objects, with 0.8 million sqm, 23 percent, in each category.
"It was foreign market players who had stipulated the culture of environmental certification in Russia, especially international tenants interested in energy-saving and healthy offices and, to a lesser extent, warehouses. The share of retail space had increased significantly over past few years: in 2014 such objects comprised only 2 percent of the 'green' market in Russia, but by the end of Q3 2016 their portion increased to 15 percent, and we expect it to grow more," Ksenia Agapova noted.
Retail makes up about half (370,000 sqm) of all properties certified in Q1-Q3 2016. Shopping centre developers and retailers are becoming more interested in certifying to 'green' building standards, it is a distinctive trend, which has to do with changes in legislation in the West and social and environmental reporting to which many multinational retailers are bound to submit.
Despite the doubling of the 'green' market over the last two years, it is still a small portion of the overall commercial real estate market. In Moscow, about 5 percent of offices are certified, as are 6 percent of warehouses, in St. Petersburg the figure is under 7 percent for offices and zero for industrial premises. There is certainly room for 'green' growth, says JLL.
"The overall tendency is obviously positive: owners and tenants of retail properties increasingly consider their energy efficiency and international certification as high priority. For Class A offices, LEED or BREEAM certificates become a must have. Judging by the projects our team is currently certifying, we can predict further expansion of this market to 700,000 sqm in 2017," Ksenia Agapova concluded.
Source: http://europaproperty.com/news/2016/12/green-property-stock-in-russia-surpasses-3-6-million-sqm-3081