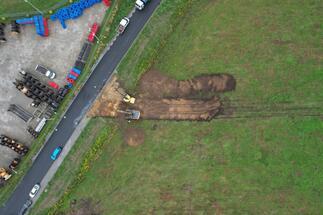 Frontier Park Wrocław is being developed on a 2 ha plot on ul. Błękitna about 9 km south of Wrocław city centre and just off the Bielany Wrocławskie junction of the A4 motorway. It will comprise twelve small business units of 300 sqm and eventually 9,300 sqm of flexible warehouse and production space with adjacent offices.
In the middle of this year, Frontier Estates financially participated in an extension to ul. Błękitna to allow quick access to the motorway junction.
Frontier Park Wrocław is ideal for small and medium-sized companies that are looking for flexible warehouse space. This format works well in industries that require warehousing, display areas and the possibility of opening an office in the same location. The modules at Frontier Park Wrocław could also be used for light production processes.
Daniel Oponowicz, the commercial director of Frontier Estates Polska
Frontier Estates Polska is currently finalising leasing negotiations with several companies. The completion of construction work and the handover of the premises to tenants is scheduled for the end of Q1 2022.
Frontier Estates has developed 40 SBU projects in the UK and has also completed 150 projects in the public, commercial, residential and hotel sectors across Europe. It recently partnered up with Polish project managers Trebbi for its expansion into this country.