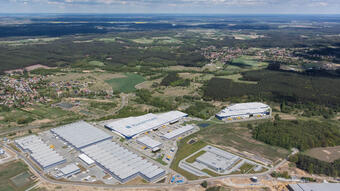 Due to its proximity to Germany and the potential it presents for serving foreign markets, western Poland is developing quickly. The Western Pomeranian and Lubuski regions are where Panattoni has delivered the most space after the so-called Big Five markets. This was 782,000 square meters and 621,000 square meters, respectively, at the end of the first quarter of 2023. The west of Poland serves as a hub for international e-commerce, which is one of the forces driving this development. Now that ECE Logistics has leased 11,800 sqm in Panattoni Park Zielona Góra III, it will also be able to benefit from the location's advantages. The transportation company is to run the operations for an e-commerce client to serve markets that include Germany and France to the west and the Czech Republic to the south.
"Eventually, the new building is to be the largest warehouse that we at ECE Logistics will operate and it will allow us to significantly broaden our client base and provide comprehensive support to our business partners when they expand into foreign markets. The space in Panattoni Park Zielona Góra III will allow us to handle both small- and large-sized goods as part of our XXL Logistics service. When we were selecting our new center, we also took into account the high standard of sustainable development solutions that will help us and our clients meet our goals in this sphere", says Maciej Korlak, the Managing Director at ECE Logistics.
"Our first two Panattoni parks in Zielona Góra have already been fully commercialized and this superb location in the region's administrative capital has been chosen by many of the leading logistics companies. We are glad that ECE Logistics is one of them and is to support the development of our third project in this location. This is the first time we have worked together but we believe that having good working relations will lead to more projects, especially when a company wishes to develop its e-commerce services, a sector for which we are the leading developer in Europe", says Dorota Jagodzińska, the Managing Director at Panattoni.
Due to its convenient access to labor as well as its strategic location, which enables efficient distribution throughout Poland as well as to the south and west of Europe, Zielona Góra has become a popular choice for industrial space. The A2 motorway is nearby, making it simple to travel to the major cities in this region of Europe, such as Berlin, Warsaw, Poznań, and Łódź. Additionally, the S3 highway runs close by, linking Western Pomerania to the country's southern border.
For a rating of "Excellent," Panattoni Park Zielona Góra III will go through BREEAM certification. In addition to planting flower meadows and providing shelter for insects, invertebrates, and birds, the developer must ensure lower CO2 emissions through improved insulation of the walls and roofs. Additionally, employees will have access to extensive cycling infrastructure and electric vehicle charging stations.