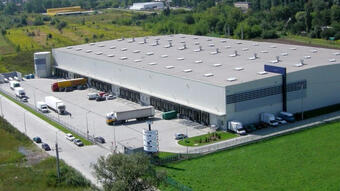 "Ever since NREP established its presence on the Polish market, we have invariably focused on growing our portfolio and further enhancing the quality of the buildings. That's why when we were searching for a company to deliver property management for our logistics facilities in Kraków, Sosnowiec and Wrocław, we wanted to secure a partner with a strong and broad know-how. That was also the reason why we partnered with Cushman & Wakefield, a market-leading player with an unrivalled skills base and extensive experience in commercial property management, to provide us strategic support in adding a competitive edge to our Polish portfolio", says Artur Kuliński, President of the Management Board of BIK S.A.
Logistics Centre Kraków I is located in the southeastern part of the city, in the industrial district Płaszów-Rybitwy. It provides close to 10,000 sqm of GLA, including 8,000 sqm of warehouse space and 2,000 sqm of office space. The complex is adjacent to Logistics Centre Kraków II, which has 10,000 sqm of warehouse space and approx. 1,000 sqm of office space. BIK Park Sosnowiec II, with a total area of almost 12,000 sqm, is situated in the immediate vicinity of the intersection of the A4 motorway, which connects Rzeszów with Poland's western border, and Silesia's eastern ring road – the S1 expressway, running through Cieszyn to the south of Europe. BIK Park Wrocław I is a modern logistics centre providing 47,500 sqm of warehouse and office space in Bielany Wrocławskie. It boasts a prime location: 0.5 km from Pietrzykowice interchange of the A4 motorway, 3.5 km from Wrocław South interchange of the A8 motorway, and about a dozen kilometres from Wrocław Airport – a key factor for tenants focusing on distribution in international markets.
"The acquisition of BIK S.A.'s portfolio of four logistics assets takes the total amount of commercial property that Cushman & Wakefield manages in Poland to 3.7 million square metres. Such a scale of business translates into access to the best practices and expertise in portfolio optimisation for our clients and the ability to offer added value to their tenants. We are very grateful to our client for trusting us to manage its properties", comments Grzegorz Dyląg, Partner, Head of Asset Services Business Space, Asset Services EMEA, Cushman & Wakefield.
Soruce:property-forum.eu