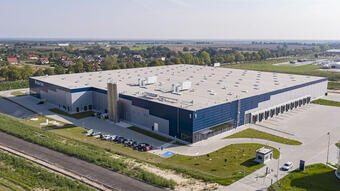 Expansion in Gorzów Wielkopolski is divided into several phases. The ready spaces and those still under construction are leased by tenants like Omnipack, Logoplaste, Magma, Fiege, Faurecia or Borne. Newly purchased plots will allow for preparing modern infrastructure for the growing needs of existing and new tenants.
"Gorzów Wielkopolski is a city that over the years, as a result of historic and economic changes, has experienced ups and downs, repeatedly proving its entrepreneurship and readiness to develop. I am convinced that the ability to transform from a heavy industry centre and take advantage of the opportunities brought by the development of modern business is largely due to its inhabitants, a community of people with initiative and energy to act. Today's Gorzów uses its great location and road infrastructure and makes its presence on the logistic and warehouse map of Poland increasingly visible. Simply showing that it has a lot to offer," comments Michał Białas, Country Head of Accolade Poland.
The Gorzów Wielkopolski complex is located 8 kilometres away from the city centre and offers a perfect location close to the German border which brings great potential for entrepreneurs moving their logistics centres and light production to the CEE region. Resident-friendly living conditions and urban infrastructure make the location attractive also for qualified staff.
"The expansion of our activities in Gorzów is a key part of the strategic development along the western border, where we are also present in Goleniów, Szczecin, Zielona Góra, and Legnica. In our eyes, Gorzów Wielkopolski is an important warehouse and logistics centre which benefits also from its location in the Kostrzyn-Słubice Special Economic Zone - one of the fastest-growing economic zones in Poland," added Michał Białas.
All new Accolade projects in Gorzów Wielkopolski aspire to BREEAM certification of sustainability at "Excellent" level and have several solutions focused on advanced ecological high-saving energy systems and great water management. Accolade also strives for the enrichment of the park's surroundings, in this case, represented by landscaping with trees, shrubs, and wildflower meadows as well as securing great working conditions for the employees such as bicycle and electric vehicle charging stations or green office landscaping.