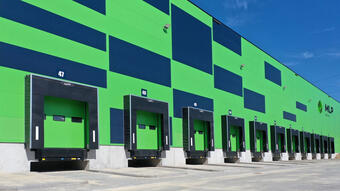 MLP Group has finalised a transaction with Aareal Bank AG of Germany, whereby the Bank has agreed to lend more than €63.5 million in accordance with the transaction terms. The proceeds will be used to refinance the Group's existing loan liabilities incurred for the MLP Poznań West project. In addition, they will be used to finance further new projects of the MLP Group. The term of the loan agreement is five years.
"We are very pleased to have established a relationship with Aareal Bank AG, another banking institution from Germany that looks favourably upon our business model. It will give us full financial stability and the ability to expand our operations at a swift pace, solidifying our position in the European market. We appreciate the Bank's professionalism and business approach. Our projects find favour with financing institutions, of which this recent deal is another example", said Monika Dobosz, CFO of MLP Group S.A.
"We are proud to have been able to represent Aareal Bank AG in the project and to accompany MLP Group in another portfolio financing transaction. We have a long track record of advising on key real estate projects in Poland and across the region, drawing on our experience, knowledge and understanding of client needs," said Anna Mądra, Partner at Allen & Overy, A. Pędzich sp.k.
MLP Poznań West is a distribution centre, comprising more than 140,000 sqm of warehouse space located on the western side of Poznań, at the S11 expressway and only 7 km from the A2 motorway and S11 junction. The centre is targeted primarily at tenants from the e-commerce, logistics, distribution and light industrial manufacturing industries. Ultimately, all the buildings will be BREEAM certified with a rating of Very Good or higher, the certification process is already underway.
The legal advisor to Aareal Bank AG was Allen & Overy.
source:property-forum.eu