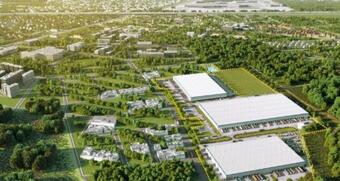 Frigo Logistics is a leader on the Polish market in the distribution of frozen products. The company offers comprehensive logistics services for goods requiring controlled temperatures, from taking over the goods, storage and completing, to the exit of the goods as well as their transport and distribution. Frigo Logistics has distribution and high-storage warehouses, which are located in Żnin, near Bydgoszcz, Radomsko and in the Błonie near Warsaw.
The company operates central warehouses with controlled temperature in the storage area minus 22ºC for seven leading retail chains in Poland and provides logistics services on behalf of many manufacturers, distributors and trading companies throughout the country.
An additional warehouse in Czeladz for Frigo Logistics
Frigo Logistics has decided to lease an additional freezing space due to the growing demand for frozen products transport services and acquiring new contractors. Thanks to the new freezing space, the company will maintain the efficiency and quality of deliveries. The company chose Alliance Silesia Logistics Center, where has leased 3,500 sq m, due to the location and the availability of temperature-controlled space.
"When choosing a new space, there were several important aspects for us. Time, the possibility of lease existing space with controlled temperature and location providing good access to various parts of the Silesia agglomeration were decisive for us. The Alliance Silesia Logistics Center turned out to be the best choice." – comments Jarosław Kołodziejski, Chief Executive Officer at Frigo Logistics.
"The biggest challenge in the whole process was to find the right warehouse cooling area with the option of immediate availability, whose supply is limited on the market. Thanks to the flexible approach of the park owner, it was possible to meet the client's technical and financial expectations" – comments Tomasz Rąba, Senior Consultant Industrial & Logistic at AXI IMMO Group.
Logistics center in Czeladz
Alliance Silesia Logistics Center is situated in Czeladz, Upper Silesia, Poland. This logistics centre consists of 7 warehouse buildings and offers 90,000 sq m of modern warehouse space. It is located 10 km from Katowice, near national road No. 86 (DK86). The location of the park creates excellent conditions for efficient distribution, not only in Upper Silesia or southern Poland but also on international markets.
Source: AXI IMMO