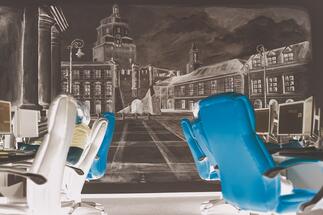 Out of 35 manufacturing projects implemented lately in Lublin, 9 were examples of foreign direct investments from countries like Germany, Italy, the Netherlands, Ukraine, Malaysia, Israel or Denmark. The automotive and electro-machinery sectors are dominated mostly by German capital, but there are also numerous projects originating from Belgium and France. Some of the examples of German investors who decided for Lublin within last year are Data Modul and Turck. Data Modul is a global supplier of visual solutions manufacturing innovative electronic PC components and flat panel displays. The modern production site of LCD displays together with a logistics centre of 16,000 sq m are located in Panattoni Park Lublin. As a target, the facility is expected to offer employment to around 250 people. 220 new jobs are to be created at a manufacturing site of Turck developed in an industrial park of MLP Lublin. Turck is a family business appointing more than 4,800 people in 30 subsidiaries and partners' facilities in 60 countries. The company is a specialist in sensor, fieldbus, connectivity, HMI interfaces and RFID systems.
Investors' interest in machinery and automotive industries in Lublin is a consequence of Lublin's strategy of supporting sectors of substantial intellectual potential and local economic traditions. The fact the city of Lublin focuses on the development of automotive sector results from many years of automotive traditions dating back to interwar period. Competences and experiences of workers of former Truck Factor or Daewoo are successfully utilised by international players from the automotive sector who set up in Lublin.
Creation of positive climate for the automotive industry in recent years was facilitated by infrastructural investments, especially by the Lublin Airport, which became a window to the world, as well as construction of S17 express road connecting Lublin with Warsaw and S19 to Białystok and Rzeszów. As a reply to signals coming from investors who are reluctant to build their own facilities on greenfield sites, the city decided to diversify its investment offer and work with global developers like Panattoni Europe, MLP and Goodman on the development of BTS projects. It is notable that also local players on the real estate market, e.g. TBV Investment or JJK Property, have joined this trend, which resulted in industrial investments of 65,000 sq m that are in preparation now. As a consequence, competitive position of the city significantly improved too, and Lublin became much more attractive to domestic and foreign investors seeking ready spaces for lease. It was one of the reasons why a Bavarian concern ABM Greiffenberger, a specialist in production of innovative electric engines, chose Lublin as a place for the company's growth.
Greater presence of foreign entities on the Lublin market is intrinsically connected with increased supply of modern office space in the city, which in the last 5 years have more than doubled. Currently in Lublin there are more than 205,000 sq m of high quality office space, mostly A and B/B+ class, while the vacancy rate amounts to 15%. After completion of projects that are under development now, the supply will grow by another 56,000 sq m. Importantly, average rent costs are about 15% lower than in the biggest cities of Poland. Availability of modern office space in Lublin successfully attracts investors representing business services. In 2018 alone, Lublin witnessed 6 new investments from BPO/SSC and IT sectors. Thus, it is the BSS that records the most dynamic growth in Lublin – since 2015 a total of 34 companies from this sector invested in the city.
Undoubtedly, in the BSS sector Lublin became specialized in IT services. Over the years, the city has managed to retain 90% of IT graduates in Lublin where they easily find employment at local IT companies. Competitive wages, lower employees' attrition as compared to the biggest Polish cities, as well as high degree of knowledge of graduates of Lublin's universities are another competitive advantages of Lublin recognised by foreign investors. Fine examples of this are recent investments of Capgemini and Lingaro. Capgemini, a French leader in consulting, outsourcing and IT, opened its branch in Lublin to support its clients from the field of Cloud Infrastructure Services in English, German, French and Dutch. The company chose Lublin mostly because of city's rapid growth of IT sector, availability of skilled workforce and people's language proficiency. Similar reasons guided Lingaro, a specialist in Business Intelligence, Big Data or Data Analytics, which recognised the industry's huge growth potential in Lublin.
Undeniably, the determining factor for locating investments, in particular those in high technology sectors like BSS or automotive, is human capital, which is the city's greatest potential. As the largest city and academic centre in Eastern Poland, Lublin is the city of young people. Over 61% of its citizens are in production age, and 27% people have higher education degree. Academic potential and availability of 18,000 graduates fluent in foreign languages entering the labour market each year are a huge asset for international companies from the BSS sector. More than 1,100 students of English philology, 395 of applied linguistics, 369 of Roman philology, over 300 German philology and almost 200 of Spanish philology together with 6,500 foreign students from more than 90 countries prove Lublin universities' highest degree of internationalisation in Poland, which at the same translates into great potential for foreign businesses investing in Lublin, especially in the context of serving international projects and clients from all over the world.
Investment attractiveness of Lublin is also the output of activities undertaken by the Lublin City Hall aimed at stimulating both collaboration of local businesses and increasing availability of human resources. Examples of such actions include cluster initiatives like Automotive and Machinery Upland, Lublin IT Upland or Lublin Medicine – Cluster of Medical and Wellness Services. The clusters aim to increase the competitiveness of Lublin's economy through tripartite collaboration of entrepreneurs, academia and local government, for instance by obtaining funds for innovative projects, creating R&D centres etc.
Investors become increasingly open to Lublin municipality's initiatives aimed at enhancing collaboration between science and business by creating patronage classes, internships or apprenticeships. Top graduates of technical faculties of Lublin's universities may expect well-paid job, growth opportunities and professional promotion in many manufacturing companies based in Lublin. During a cyclical conference "Engineers for Lublin" organised by the Lublin City Hall local entrepreneurs convince attendees that in Lublin there are high quality jobs for specialists in this field and it is worth taking up education in technical fields. It is because of the consistently implemented strategy Lublin was chosen by companies like Asquini (French manufacturer of components for aviation industry) or Plastic Omnium Auto Inergy Poland Sp. z o.o. (manufacturer of fuel systems from France).
When analysing the countries of origin of inward investments, it can be noted that while the manufacturing sector is visibly dominated by German capital, the business services sector does not have a clear leader and apart from Germany (KS Engineering Technology), investors come also from France (Capgemini, Sii, Orange), the USA (DataArt, Convergys, Genpact, Team International), Italy (Generali), Switzerland (Impaq) or Great Britain (Phlexglobal, Mobica). More than a half (53%) of employees in the BSS sector work for the companies with foreign capital, mostly from France, the USA and Italy.
However, Lublin is not only about business. It is a diverse and friendly city boasting a Smart City certificate and proud of one of the highest quality of living indicators in Poland. Investment attractiveness of Lublin also results from city's traditions of multiculturalism and pluralism, which are reflected in unique openness and tolerance of Lublin's citizens. This, in turn, translates into high level of safety in the city.
Source: Wydział Strategii i Obsługi Inwestorów Urzędu Miasta Lublin