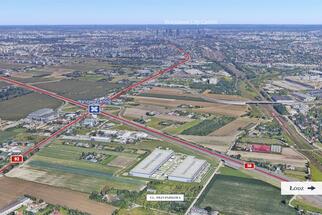 City Logistics Warsaw III – professionalism and beauty in one! Panattoni's planned investment in City Logistics Warsaw III with its first tenant. Trena Sp. z o.o. operates online stores selling professional cosmetics and accessories for makeup, hair, as well as specialty face and body care. The company has leased 9,000 sqm at the developer's new project – of which 7,000 sqm will be dedicated to storage and packaging, and the remaining 2,000 sqm is earmarked for social and office space. Trena Sp. z o.o. conducts its sales operations throughout Europe, with a range of 7,100 products under close to 100 beauty brands.
The choice of City Logistics Warsaw III, situated right next to the western section of the Warsaw Bypass was a strategic decision for the company, as explained by Grzegorz Hryciuk – President of the Management Board: "Our customer base includes hair, nails and beauty salons in all of Europe, and the second category are retail customers. The e-commerce market expects us to respond to and deliver orders immediately and that is why location is a major factor determining our strategic position in the dynamics of the beauty market, and consequently – our ability to keep up to the date with the industry. The City Logistics Park enjoys optimal connectivity, with the A2 motorway on its doorstep, making it possible to travel fast to anywhere not only in Poland, but also across Europe. In the case of popular beauty brands, the waiting time for orders to a large extent determines the choice of distributor. Another, equally important, aspect which decided our choice of this location is the availability of municipal transport which will provide for a comfortable commute by our team members who do not drive. Both of these factors pointed to the City Logistics Park as the most appropriate place for running our business.
Going steady. Panattoni is consistently developing its portfolio of City Logistics Parks projects. The latest project – City Logistics Warsaw III – will be the third city logistics park in Warsaw and the seventh in Poland. Nationwide, the developer has already delivered 153,000 sqm, in locations including Łódź and Wrocław, and there are plans just as much. Parks dedicated to city and SBU logistics are developed by Panattoni in Germany, too – three buildings totalling 15,000 sqm are coming up in the Spandau area of Berlin. According to Marek Dobrzycki, Managing Director at Panattoni Europe "City-based warehouses are no longer a trend, having become a genuine need that is recognised worldwide. It is brought about, among other things, by the dynamic growth in e-commerce, as well as by urbanisation and the gradual shift in residence of the human population from rural to urban areas – according to a UN report, 55% of the world's population today lives in urban areas, and the percentage is expected to go up to 68% by 2050". He then goes on to say: "Being aware of the huge demand for urban logistics, Panattoni is consistently developing the concept and is prepared to bring it to all the countries where we are or will be involved in development activities".
City Logistics Warsaw III comprises two modern buildings totalling 25,000 sqm of space, with minimum units of 1,200 sqm. With flexible unit layout options, the space will be suitable for warehousing, sorting and packaging operations. The project will be delivered within city limits, at ul. Przyparkowa, right next to the S8 and as little as 800 m from the "Warszawa Zachód" junction, connecting the S8 with national road no 92. The facility will fulfil BREEAM certification criteria, and the first tenants will be able to move into the park already in May 2020.
Source: Panattoni